Although it's not immune to the recession, China's industrial electronics equipment segment will continue to expand in 2009 due the wide diversity of applications served by the market, according to iSuppli Corp.
iSuppli forecasts that the overall revenue generated by China's industrial electronics equipment market will reach $40.9 billion in 2009, up 8.9 percent from 2008. This growth rate is down from 13.8 percent in 2008, reflecting the impact of the global economic downturn.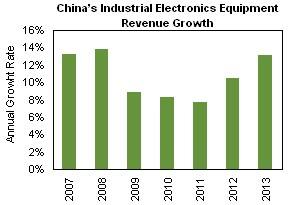 The industrial electronics category is among the most diversified segments of the Chinese economy. By iSuppli's definition, the industrial electronics category comprises several areas, including medical electronics, manufacturing automation, semiconductor production, test and measurement, security systems and military and civil aerospace. With such a wide range of applications, the industrial area is insulated from weak conditions in any single market.
Most of the segments of China's industrial electronics market will only experience a decline in their annual growth rates in 2009 compared to 2008. However, the semiconductor manufacturing equipment and other industrial electronics segments will suffer further declines in market revenue in 2009 compared to 2008.
Accounting for 46.7 percent of total industrial equipment revenue in 2008, security equipment is the largest segment of the industrial electronics equipment business in China, and is expected to grow by 10.2 percent to reach $19.3 billion this year. This segment is one of the most important forces driving the growth of China's industrial electronics market.
During the period from 2007 to 2013, the performances of the various segments of the industrial electronics equipment area will vary.
The biggest slowdown will occur in the manufacturing automation sector. Although the desire to upgrade manufacturing systems in Chinese factories ignited the market in 2006 and 2007, the recent global financial crisis has frozen industry initiatives toward purchasing new and machines and equipment. This caused revenue growth for the market to shrink to 13.9 percent in 2008, down from 28.9 percent in 2007. By 2011, annual growth will slow to 8.4 percent.
The recession is taking a greater toll on China's market for semiconductors used in industrial electronics gear.
iSuppli's most pessimistic forecast for China's industrial electronics semiconductor market predicts that consumption in 2009 will drop to $2.5 billion, a decline of 9.9 percent from 2008. Given the capability of the Chinese government to intervene, however, the market may not perform as badly as initially feared.
If the positive impacts of the government stimulus during the first three months of the year are maintained in the second half of the year, revenue from sales of semiconductors for consumption by China's industrial electronics market in 2009 could reach $2.7 billion—a drop of only 2.1 percent from 2008.
The shrinking of overall semiconductor revenue results not only from diminishing demand but also from declining selling prices. China's industrial electronics microcomponent market, consisting of DSPs and microcontrollers, will drop to $83 million in 2009, a decrease of 11 percent from 2008.
Leading microcomponent firms such as Microchip and Atmel face tough challenges ahead. Vendors that successfully navigate these tough times will perform better, as exemplified by STMicroelectronics' successful design win in the largest Automatic Meter Reading (AMR) project initiated by the China National Petroleum Corporation (CNPC), which is expected to reach about 1 million households in three years.
Local Chinese industrial electronics gear makers consume fewer semiconductors on a revenue basis than their international counterparts because they tend to employ cheaper and less comprehensive silicon components than their international competitors. However, although the portion of semiconductor consumption of local Chinese firms now is low relative to multinational firms operating in China, it will keep rising steadily, given the expansion of domestic firms both in terms of numbers and scale.
iSuppli forecasts that more than 51 percent of these semiconductors will be purchased by local industrial electronics firms by 2013.
Read More, Bottoming? China's Industrial Electronics Market Receives a Welcome Boost