Fabless chip company Allwinner Technology Co. Ltd. (Zhuhai, China) has claimed it will have its first 64-bit processor for tablet computers should be in the market before the end of 2014. A development board should be ready for demonstration during the Hong Kong Electronics Fair in October the company has also said.
No indication was given as to what processor architecture would be used or how many cores it would provide but Allwinner has been a long-term licensee of processor cores from ARM Holdings plc (Cambridge, England) and graphics cores from Imagination Technologies Group plc. (Kings Langley, England).
Allwinner claims it was the leading supplier of processors for the Android tablet computer market in 2012 and 2013.
"The 64-bit era is absolutely the new trend. As one of the most important strategic partners of ARM, Allwinner will team with ARM to take the lead in providing highly cost-effective 64-bit tablet solutions, " said Jack Lee, chief marketing officer of Allwinner, in a statement. "Allwinner has been the No.1 chipset vendor for Android tablets in term of chipset shipment in both 2012 and 2013. We're highly confident to take the championship in the coming 64-bit era, just as what we've achieved in the 32-bit era."
While Allwinner did not reveal core information it did say that it would support the 4K video codec, H.265 and be implemented in a leading fabrication process which could mean 28nm or 20nm CMOS. Allwinner's choices include a Big-little design based on Cortex-A57 and Cortex-A53 or possibly and all Cortex-A53 implementation.
Allwinner has already produced a 32-bit octa-core A80 processor based on four Cortex-A15s and four Cortex-A7s and a PowerVR Series 6 GPU. This is being pitched at consumer electronics items such as media players, notebook computers and smart TVs.
$4 tablet processor in mass production
The company has also started mass production of the 32-bit A33 quad-core processor for tablets priced at less than $4. The A33 includes both processor and graphis cores licensed from ARM; a quad-core Cortex-A7 and the Mali400 MP2 GPU. The chipset, including a dedicated power management IC, supports display sizes up to 1280 by 800 pixels.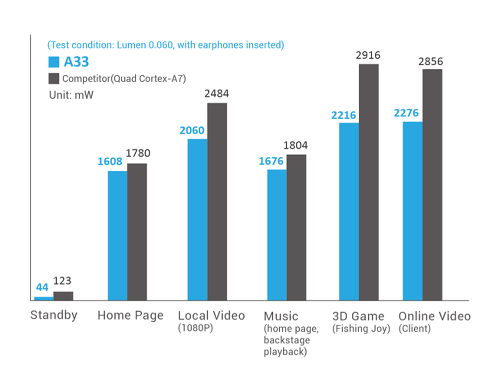 Quad-core 32-bit A33 power consumption figures. Source: Allwinner.
As well as being designed for low cost the A33 is optimized for low power consumption and consumes 44mW in standby mode
A33 achieves low power through a balanced combination of several features: ultra energy-efficient Cortex-A7 CPU cores, an advanced fabrication process, optimized DVFS technology, and a standby mode that allows low power consumption during voice calls. When using a 4000mAh battery, tablets based on A33 can standby for more than 300 hours, equivalent to 6.5 hours of local 1080p video playback.
It remains unclear what that advanced fabrication process is. Foundry TSMC is a market leader in 28nm CMOS and is just starting to ramp up 20nm CMOS although that is thought to be mainly for use by Apple. Many other companies are expected to remain on the 28nm CMOS process for a considerable time.
Related links and articles:
IHS Technology Semiconductor & Components Page
News articles:
China's Rockchip Takes 64-Bit ARM License
Marvell Includes LTE in 64-bit Apps Processor
China's Rockchip Takes 64-Bit ARM License
Intel Partners With Rockchip For Tablet Push
China's Actions Semi Takes 64-bit ARM License