Microchip Technology Inc. unveiled a new family of USB power delivery (UPD) controllers at this year's Computex Taipei conference capable of delivering 100W of power from a single standard USB port while also being used for data.
The announcement comes just one day after Renesas Electronics Corp. unmasked its own UPD device, the µPD720250, also capable of power delivery of up to 100W over a standard USB cable.
The first UPD from Microchip, the UPD1001, will feature industry-standard power delivery and battery charging protocols. The ability to deliver up to 100W of power from a single USB cable is 40 times the power that a similar device can be powered with USB 2.0.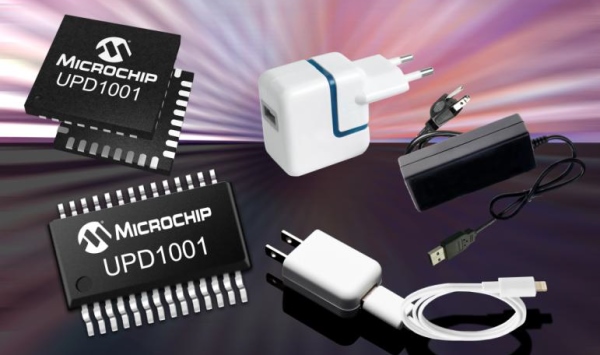 The UPD supports the five USB-IF standard UPD power profiles as well as an additional 25 UPD-complaint profiles. With 30 profiles to choose from in a single chip, Microchip said the UPD1001 can fit into designers' specific application requirements by strapping the two configuration select pins on the device. The device also includes integrated quad-banks of one-time programmable memory allowing for more configurations and customizations without the need of external memory components, Microchip said.
According to USB Flash Drive Alliance, UPD devices can be used for a variety of applications including:
USB bus powered Hard Disk Drives (HDDs) and printers, eliminating the need for a separate power brick.
A monitor with a supply from the wall can power, or charge, a laptop while still displaying.
USB power bricks or chargers are able to supply power through a laptop's USB ports.
Laptops and USB power bricks can provide higher power to battery powered devices.
Battery powered devices can get increased charging current from a hub and then give it back temporarily when the user's HDD requires to spin up.
Microchip hopes to see the device find its way into a wide range of applications such as notebooks, printers, mobile devices, battery charges, computers and the automotive market.
UPD1001 is available now for sampling in 32-pin QFN and 28-pin TSSOP packages for $1.15 each, in 10,000 unit quantities. Volume production of the devices is expected in July.
Related stories: