Researchers from the Massachusetts Institute of Technology (MIT) and Nanyang Technological University in Singapore have found a way to bend ceramics—in this case zirconium—under stress and make them unbend to the original shape.
Such a feat was considered impractical for brittle ceramic material. The researchers were able to do so on a microscopic scale.
The ability to bend ceramic materials could create important tools for biomedical applications. Shape-memory ceramics could be used as micro-actuators to trigger actions within, such as the release of drugs from tiny implants.
Shape-memory materials have been known in metals and some polymers, but not in ceramics with the ceramics' brittleness and propensity for cracking being a hurdle.
The researchers overcame the hurdle by creating tiny ceramic objects, and made the individual crystal grains span the entire small-scale structure, removing the crystal-grain boundaries where cracks are most likely to occur.
The tiny samples of ceramic material deformed to about 7 percent of their size. "Most things can only deform about 1 percent," said researcher MIT graduate student Alan Lai.
David Dunand, a professor of materials science and engineering at Northwestern University, said the MIT team "achieved something that was widely considered impossible," finding "a clever solution, based on fundamental materials-science principles, to the Achilles' heel of ceramics and other brittle materials."
The ceramics used in this research were made of zirconia, which is already widely used in in fuel cells, considered a promising means of providing power for cars, homes and even for the electric grid. While there would be no need for elasticity in such applications, the material's flexibility could make it more resistant to damage, according to the researchers.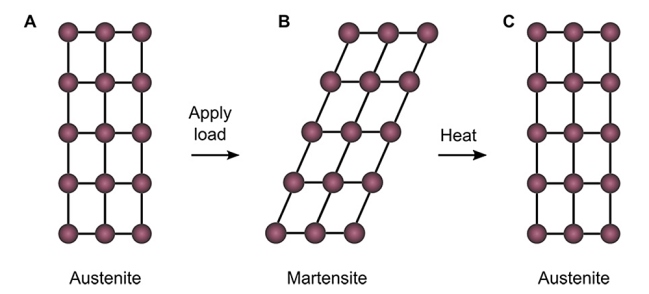 The material combines some of the best attributes of metals and ceramics, the researchers say. Metals have lower strength but are very deformable, while ceramics have much greater strength, but almost no ductility—the ability to bend or stretch without breaking.
The discovery is reported this week in the journal Science, in a paper by MIT graduate student Alan Lai, professor Christopher Schuh, and two collaborators in Singapore. In addition to Schuh and Lai, the work was carried out by Zehui Du and Chee Lip Gan of Nanyang Technological University in Singapore.