Advanced sensor technology has been making devices smarter for decades—automotive airbags, for example, know when it is time to deploy. Now, advancements in wireless connectivity are driving smart devices to the next level, enabling them to communicate with a centralized hub or with one another.
Industries that currently rely heavily on wires can benefit considerably from the convergence of these technologies. Facilities managers can monitor reams of data without being tied to their desk. Patients can consult their doctors without visiting a hospital or an office. Homeowners can remotely check on their home—and family's—security. In short, said Lisa Arrowsmith, associate director, connectivity, smart home and appliances for IHS Electronics and Media, convergence of these technologies helps improve lives.
Three large market segments—industrial, medical and building control—are adopting these technologies at varying rates, Arrowsmith explained during a webcast titled "The Application Of Connectivity Technologies and Semiconductor Sensors Within Industrial Automation, Healthcare and Building Controls" on Sept. 12. The primary drivers behind this adoption are utility, mobility and price. "In some circumstances, wireless technology has a significant advantage over wired," such as operating robots or heavy machinery, she said.
With plants and facilities spread out over acres of ground, the industrial market is particularly ripe for wireless connectivity: operators can monitor data from their tablet or smartphone while moving around a plant. However, industrial has been slow to embrace wireless, Arrowsmith said, because it is perceived to be unreliable. Additionally, most industries are slow to upgrade their communications systems while standards are still fragmented. Currently, WLAN, Bluetooth and wirelessHART are three contenders in the industrial market.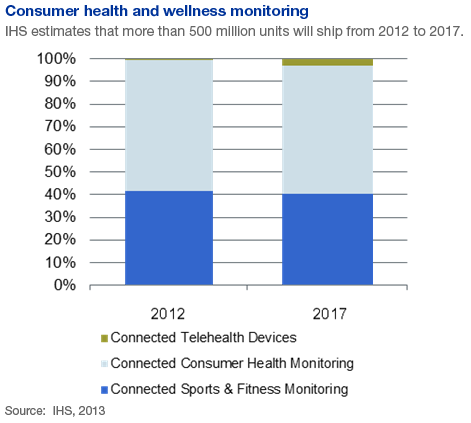 As industries move forward, demand for sensors will increase, according to Richard Dixon, IHS principal analyst for MEMS and sensors. Silicon sensors can currently measure more than 20 different kinds of input, such as pressure, temperature and electric current. Compared with the consumer market, the consumption of MEMS sensors in industrial applications—$1.5 billion in 2012—is still relatively low.
The medical market is a completely different story. Sensors are being used to measure everything from the number of steps a person takes to their heart rate and blood glucose levels. Now that such data can be transmitted wirelessly, the applications are potentially endless.
Arrowsmith estimates 500 million connected health devices will be shipped between 2012 and 2017. Consumers are adopting the technology at a rapid pace to monitor their own heath. Telemedical—or connected—applications are still evolving. Eventually, IHS estimates, office and hospital visits can be reduced significantly as doctors receive data from patients' personal or even implanted devices.
In all of these markets, Arrowsmith said, users' comfort level with their smartphones is breaking down barriers to adoption. Home automation is a classic example. Smart home technology has been around for decades but has lagged because of cost and control. Manufacturers of consumer electronics and PC devices have been competing to be the connected home's hub with no clear winner. Currently, smartphones are evolving as the device of choice, Arrowsmith said. Additionally, smartphones are connecting to the cloud, which decreases the cost of the automated home. "Whether it is cellular or Wi-Fi that connects with the cloud, the smartphone is the enabler," she said.
However, wireless standards will continue to duke it out in these markets for a while. The industrial control market is favoring WLAN and Bluetooth; medical is coming down on the side of Bluetooth Smart, and in home automation, leaders include Zigbee and others. In some of these markets, proprietary technologies still have some traction, Arrowsmith said: "You can't rule out [the category of] 'other'."