Global semiconductor sales reached $25.5 billion in July, the highest monthly total of 2013, according to the Semiconductor Industry Association (SIA) trade group.
The July sales total was an increase of 3 percent from June and an increase of 5 percent from July 2012, the SIA said. In its monthly report on chip sales figures, the SIA also urged Congress to act on immigration reform and to pass legislation designed to secure supplies of helium.
July sales in the Americas region increased 21.5 percent compared to July 2012, marking the region's largest year-over-year increase in more than two years, SIA said.
The SIA reports chip sales numbers on a three-month average basis. The sales figures are compiled by the World Semiconductor Trade Statistics (WSTS) organization.
July sales imp[roved on a sequential basis across all regions tracked by the WSTS, including Japan (7.9 percent), the Americas (5.4 percent), Asia Pacific (1.2 percent) and Europe (0.3 percent), the SIA said.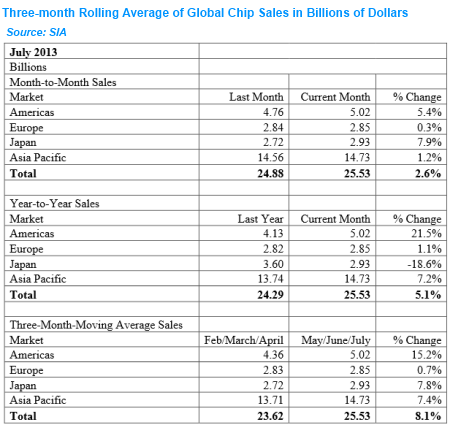 In addition to the large year-over-year increase in the Americas region, chip sales rose year-over-year by 7 percent in Asia Pacific and 1 percent in Europe, the SIA said. But sales in Japan declined 19 percent compared with July 2012, largely because of the devaluation of the Japanese yen, the SIA said.
In its report on the industry's growth, Brian Toohey, president and CEO, emphasized two programs the SIA called for initiatives to strengthen the semiconductor industry. Besides taking meaningful action on immigration reform, "Congress also must swiftly approve legislation to secure the supply of helium gas that is needed for semiconductor manufacturing and a range of other applications, before an Oct. 7 deadline, when a key source of helium—the Federal Helium Reserve—is scheduled to go offline to industrial and scientific helium users."
The House has passed H.R. 527, the Responsible Helium Administration and Stewardship Act, in April. Reconciled with the Senate's S.783, the Helium Stewardship Act of 2013, the legislation would help ensure a steady stream of helium supplies.
According to the SIA, the U.S. established the Federal Helium Reserve in the 1920s at that time due to its strategic importance to the military. The Reserve now holds about 30 percent of global helium supplies. The Reserve scheduled to stop supplying private entities next month creates a shortage of reliable helium supplies in the U.S. and has resulted in dramatic price increases over the past several years. The helium supply shortage also has caused significant uncertainty in important industrial sectors and the research community, where currently there are no substitutes for helium.