Anritsu is piggybacking on the success of its Rubidium signal generator family, which Electronics360 first reported on in April 2022, by introducing new frequency extender modules through a partnership with Virginia Diodes Inc. (VDI), a manufacturer of test and measurement equipment for terahertz (THz) and millimeter wave (mmWave) applications.
The new modules cover the 50 GHz to 1,100 GHz range, producing a sub-THz signal generator solution for emerging scientific, wireless communications systems, and body and material scanner applications.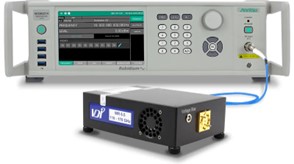 A partnership between Anritsu and VDI has produced a signal generator solution for emerging sub-THz radio spectrum designs. Source: AnritsuAnritsu notes that its Rubidium signal generator family delivers signal purity and frequency stability, even at high output power levels, across a broad frequency range of 9 kHz to 43.5 GHz. Phase noise advantages include low single sideband (SSB) of -136 dBc/Hz (typical) and -140 dBc/Hz (measured) at 10 GHz and 10 kHz offset — something the company said is unmatched in the industry. The signal generators also offer harmonic and spurious performance advantages that are preserved at sub-THz frequencies. By integrating the new VDI frequency extender modules with Rubidium signal generators, engineers can realize what Anritsu said is the industry's highest output power at THz frequencies.
The VDI modules offer high test port power, voltage-controlled RF attenuation and TTL controlled ON/OFF modulation rates to a few kHz as standard. Each frequency extender module has two multipliers, which can be configured to allow input signals in two frequency bands. One multiplier has low frequency input for less than 20 GHz and 10 dBm input level; the other has high frequency input for less than 50 GHz and 0 dBm input level.
The Rubidium-VDI signal generation solution meets what Anritsu calls a growing demand for emerging sub-THz radio spectrum designs that can be used during the development of satellite services, radio astronomy, Earth exploration and meteorology applications. The solution also supports wireless communication systems focusing on the W band (90 GHz to 120 GHz) and D band (130 GHz to 170 GHz), as well as intersatellite links operating at 220 GHz to 330 GHz.
"VDI strives to produce the highest quality test and measurement solutions for the mmWave, sub-THz and THz frequency ranges through frequency extension of existing microwave test infrastructure. Achieving this requires continual innovation and development to integrate leading-edge active devices with our in-house Schottky diode technology to meet tomorrow's measurement challenges," said Cliff Rowland V.P. Business Development, VDI. "VDI is exited to work with Anritsu to combine our high-frequency SGX extension modules with its new signal generation capability to bring high-performance solutions to the market."