As electric vehicles (EVs) become more ubiquitous, their transmissions are coming under increased scrutiny for how they manage power delivery and improve driving experience. While most EVs have relatively simple single-speed transmissions, some automakers have recently started to explore the advantages of having multiple gears in an EV transmission. By allowing a car to use different ratios, more efficient performance and improved acceleration can be achieved without sacrificing range or battery life.
Let's discuss why adding additional ratios is beneficial for EV performance, what types of gearboxes are available on the market today, and how these technologies compare with traditional gas-powered cars. Let's take a closer look at EV transmissions — with more options come new opportunities!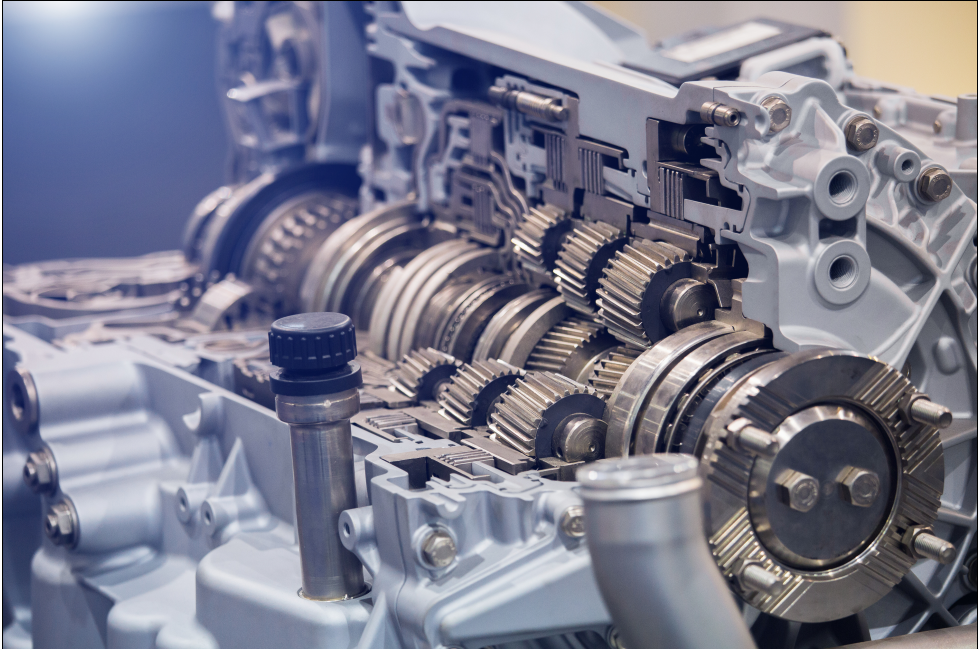 EV transmissions are much simpler than their ICE counterparts. Source: scharfsinn86/Adobe Stock
How do EV transmissions work?
EVs have fewer transmission components than traditional combustion engine vehicles, and the powertrain is simpler overall. Instead of a clutch, EV transmissions use an inverter, which converts the direct current (DC) from the battery into alternating current (AC). The AC is then sent to an electric motor that uses electromagnets to spin its internal rotor. This generates torque that drives the vehicle's wheels.
The amount of torque generated by an electric motor is proportional to the current passing through it, meaning that EVs can produce maximum torque at zero rpm and have a very broad power band allowing them to move without needing multiple gear ratios like in conventional cars. EV transmissions typically only have one or two gear reductions between the motor and the wheels for both forward and reverse motion. In comparison with internal combustion engines, which require multiple gear ratios in order to provide the optimal torque at any given speed, EVs offer better acceleration for a lighter weight package.
EV transmissions also benefit from being able to operate with more accurate and precise control than manual transmissions due to their electronic control system. This can be used to optimize efficiency when driving, as the powertrain control unit (PCU) can adjust the amount of torque delivered by the motor depending on wheel speed or vehicle load. Additionally, some EVs have regenerative braking systems that use electric motors as generators instead of brakes; this captures kinetic energy from slowing down and converts it into electrical energy, which is stored in the battery.
Types of EV transmissions
EV transmissions come in a variety of styles, including single-speed, multi-speed and continuously variable options.
Single-speed transmissions offer basic functionality, providing a fixed gear ratio between the engine and wheels. This type of transmission is simple to operate but may not be suitable for all application needs as it limits performance potential due to its lack of gear ratios.
Multi-speed transmissions offer more flexibility than single-speed units by providing multiple gear ratios for different speed requirements. This allows drivers to select the appropriate gear ratio for their current driving conditions, allowing for better control and improved acceleration.
Continuously variable transmissions offer the greatest level of flexibility and efficiency among EV transmission types. These units use a belt-and-pulley system to provide an infinite number of gear ratios between the engine and wheels. This is enabled by continuously adjusting the size of the pulleys as needed in order to maintain optimal power and RPM levels relative to speed requirements.
The type of drivetrain used in an EV can greatly affect its overall performance, efficiency, and range capabilities. It's important to select the appropriate type of transmission for the application's needs in order to maximize the vehicle's potential.
Are more ratios beneficial for EV transmissions?
EVs have traditionally been equipped with a single-speed transmission, which limits their performance and range in certain driving scenarios. To compensate for this, automotive engineers are exploring the use of continuously variable transmissions (CVTs) to help EVs better perform at higher speeds and while towing.
Bosch revolutionized the EV industry by designing a CVT for their test EV. This cutting-edge transmission consists of two pulleys linked with either a belt or chain and can be fine-tuned to generate an infinite number of gear ratios between its maximum and minimum values, making it easier for an engine to stay in its ideal range, which grants improved efficiency and extended range. By utilizing this groundbreaking CVT4EV system, they achieved up to 4% greater energy savings.
Inmotive's groundbreaking Ingear two-speed transmission also guarantees to bring astonishing energy savings. This proprietary multi-gear system substitutes the second reduction gear with a continuous chain drive plus an adjustable sprocket that changes size throughout shifting. The Ingear simplifies powertrain engineering, making it more robust and efficient than traditional transmissions while decreasing expenses as well. Moreover, its two ratios provide faster speedups, enhanced gradeability, less motor stress, which results in extended range overall.
Multi-ratio, CVTs and Ingear transmissions are the future
More advanced technologies like CVTs and Ingear transmissions certainly provide benefits to EV drivers by allowing them to achieve higher performance levels with improved efficiency. However, they come at an increased cost, which may not make them worth it in all cases. Ultimately, it will be up to the manufacturers to decide which device is best suited for their particular EV model. Nonetheless, the increased efficiency and performance provided by these devices makes them a viable option worth considering when planning out the design of an EV.
What do you think of multi-ratio transmissions for EVs? Let Electronics360 know in the comments below. No matter your opinion, it's clear that the efficient powertrain of an EV is key to ensuring the success of any electric vehicle. CVTs and Ingear transmissions offer a significant advantage over single-speed transmissions and will likely continue to be applied to further maximize range and performance. As technology advances, so too will our understanding of how best to equip EVs with transmission systems that optimize their abilities on all fronts.