A wireless battery management system (BMS) has been engineered by South Korea-based LG Innotek to improve the performance and service life of electric vehicle (EV) batteries.
In addition to wirelessly monitoring battery voltage, current and temperature, the system offers scope to reduce EV weight by up to 198 lb. Elimination of the BMS cables and connectors also serves to shrink the volume of the battery pack while expanding space for and increasing capacity of this component. Cost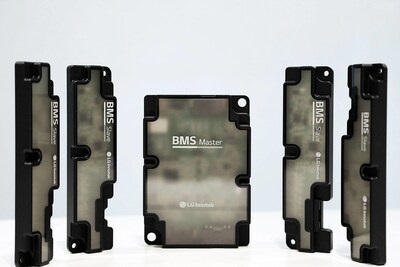 Source: LG Innotek reductions can also be achieved by replacing manual assembly, previously required due to the complexity of installing cable connections, with automated processes based on robotics.
The BMS incorporates a radio frequency (RF) communication module that combines essential components for wireless communication, such as a RF communication chip and antenna, into one unit for the first time. The module at the heart of the 800 V system is composed of a four-layer board and dozens of wireless communication components and is engineered to be compatible with all types of communication chips.
LG Innotek plans to start mass production of the wireless BMS in 2024.