Concept vehicles, electric vehicles (EVs) and autonomous vehicles (AVs) have all become a staple at CES each year.
But at CES 2023, taking place this week in Las Vegas, a new entrant in the automotive sector appeared in force — EV charging.
Given the pre-announcements made during the show and the automotive industry's quick transition to electrification due to consumer interest and government mandates; it was clear that EV charging was going to show up big at CES this year.
EV charging is seen as critical infrastructure needed to enable the automotive transition to electrification. With numerous EVs coming, EV charging is going to be as important as the cars being developed by automotive OEMs. Luckily, there are plenty of charging solutions coming as shown at the largest trade show in the world.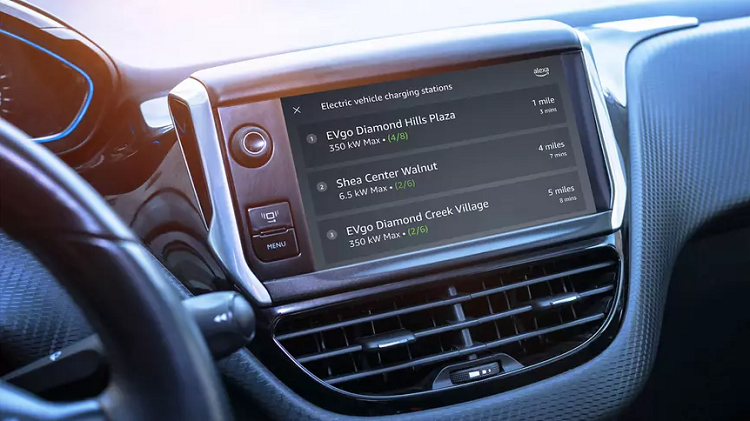 Amazon and EVgo have formed a partnership for Alexa-powered EV charging systems that help drivers find and pay for recharging services. Source: EVgo
Amazon partners with EVgo
Maybe one of the biggest announcements made at the show was Amazon forming a deal with EVgo, a maker of EV charging systems. The deal will be for a new service that will streamline the process of locating, paying and initiating recharging sessions at an EVgo station.
The service will launch later in 2023 with the Alexa-assisted EV charging service connecting drivers to more than 150,000 U.S. public charging stations through EVgo's PlugShare map.
Alexa will help drivers find charging stations operated by EVgo and other operators and then schedule and initiate a charging session and complete payment through the Alexa mobile app.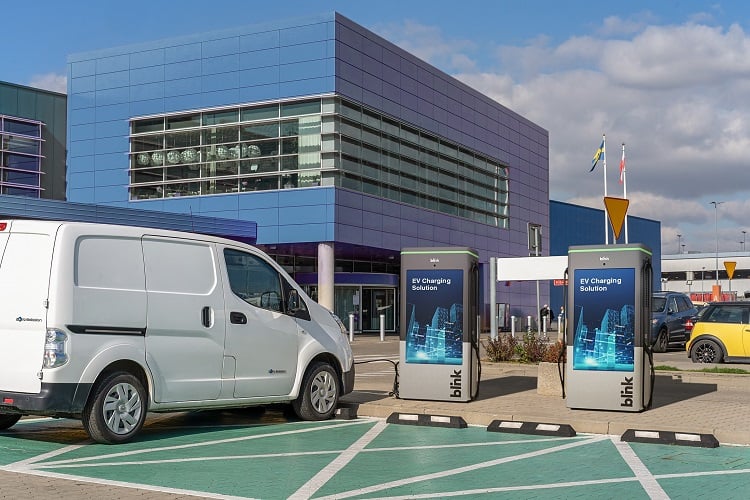 The Vision charging system from Blink is a two-in-one solution for commercial advertising that comes with a 55-inch LCD screen. Source: Blink Charging
Blink unveils new chargers
EV charging vendor Blink Charging Co. launched five new products at CES 2023 for a variety of automotive sectors including retail, home, parking garage and street charging.
The Vision charging system is a two-in-one solution that comes with a 55-inch LCD screen capable of displaying advertising. The system comes with two 80-amp, 19.2 kW ports that can charge simultaneously.
The EQ 200 system, designed for European and South American markets, can fit into any location tailored for bi-directional, vehicle-to-grid systems.
The PQ 150 smart charging cable is targeted for the European residential charging market. The cable offers 22 kW of power with no need for installation. It also is Bluetooth, Wi-Fi and SIM/GSM compatible.
Series 3 is designed for the APAC and Latin American markets for two- and three-wheeler EVs. It provides 15 amps of output for installation at small shops, residential and commercial parking.
Finally, Series 9 is a 30 kW DC fast charger in a small footprint with an LCD touchscreen display for commercial charging sectors. It works with a Wi-Fi, Ethernet or 4G connection with remote monitoring.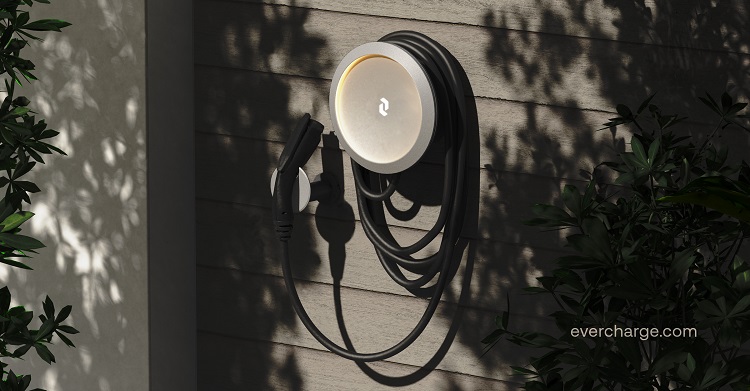 Cove is a new residential home charging system that can help homeowners charge EVs more quickly. Source: EverCharge
Cove at home
EV charging and management vendor EverCharge introduced Cove, a single-family home charging solution.
The company said that since 80% of EV charging happens at home, this is the sweet spot of the charging market for vehicles. Cove, an addition to its current multi-family systems, is designed to enable high-speed charging in single family and multi-unit homes and can be integrated into any electrical supply and is compatible with all EVs on the market.
The system allows for charging status, overall usage and system updates over a real-time Wi-Fi connectivity and can access these features through EverCharge's app.
Fleet solutions
SparkCharge has launched fleet services for mobile charging as a service (CaaS) for businesses looking to electrify fleets of vehicles.
The company offers EV fast charging solutions allowing companies to switch from gas-powered vehicles to battery-electric. The solution can use the SparkCharge portal to select vehicles that need to be charged and select a date and time for these cars to be charged.
SparkCharge claims it offers the only 100% electric and grid-free portable fast-charging EV solution available today.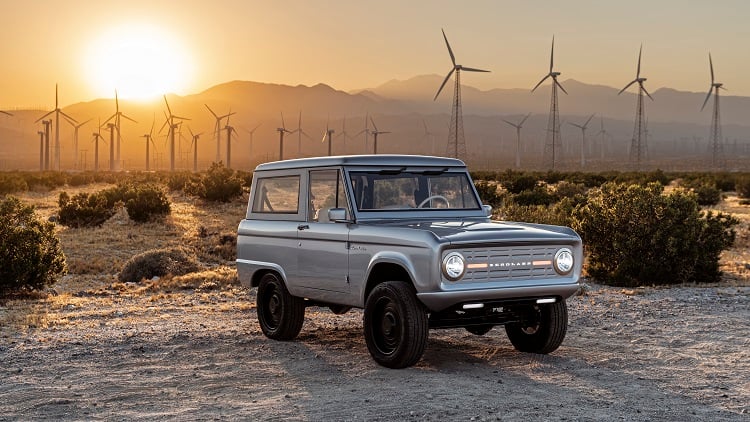 EV charger Autel Energy partnered with Zero Labs to convert a 1969 Ford Bronco to electrification. This is part of a growing trend as the automotive market transitions to electrification. Source: Autel Energy
Electrified at CES
Autel Energy, a developer of charging hardware for home and commercial systems, announced it was working with Zero Labs Automotive to electrify a 1969 Ford Bronco.
The vehicle was customized from the ground up to be converted to electrification with a 600 horsepower, dual-motor propulsion system with a 100-kWh battery and a 235-plus mile range. Autel said it sees the conversion of old vehicles to electrified models as a huge potential market for companies as the world moves to EVs and away from gasoline-powered cars.
At CES, Power Electronics said it would showcase its electric mobility ranging including infrastructure charging stations for bus depots, car dealerships, highways and more. Additionally, Power Electronics also displayed its new developments in the domestic range such as luxury and racing vehicles.
Meanwhile, Skyworks Solutions Inc. introduced a range of new electronic components specifically for EV charging including isolated analog amplifiers, voltage sensors and delta-sigma modulator devices. These help to reduce recharge times for current and future EVs by minimizing loss of power in system, allowing for more swift transfer of power and precise measurement readings of current and voltage in power control systems.