New Yorker Electronics has announced a new franchised distribution agreement with New Jersey-based MEGA Electronics, a manufacturer of power cords, power supplies and DC/DC or AC/DC converters. Established in 1994, MEGA Electronics is a preferred supplier of commercial and industrial use power cords and converters.
As a franchised distributor, New Yorker Electronics supplies MEGA Electronics' full line of products which includes power supplies in wall mount, desk top, medical grade, LED drivers, open frame and DIN rail styles. They offer power cords by country and certification as well as EN60309 plugs and converters. MEGA Electronics also offers locking connectors, having engineered the world's first locking rewireable C13 IE connector with their IEC Lock Product line. MEGA facilities perform all aspects of production, from extrusion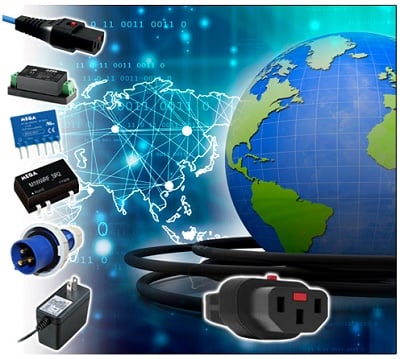 Source: New Yorker Electronics to molding of couplers, all in house. Products are UL recognized, CE-approved and all are ROHS compliant.
According to New Yorker Electronics vice president, Barry Slivka, "The combination of MEGA Electronics' Asian manufacturing and the UL listed New Jersey facility for assembly of cord sets and wire harnesses means our customers will benefit from the fastest possible service at reasonable prices." He added, "It is a one-stop source for New Yorker customers."
"Bringing on New Yorker Electronics will greatly expand MEGA's ability to service our mutual customers by providing local stock and service from a company with national reach and a long history of superior service," said Guy Francfort, vice president at MEGA Electronics. "We are excited to be entering into the agreement and look forward to a long and beautiful relationship."