The extremely low temperatures required for performing state-of-the-art physics experiments and operating large quantum processors have been achieved in Project Goldeneye. IBM researchers have successfully demonstrated the proof-of-concept technology for a dilution refrigerator capable of cooling future generations of quantum experiments.
Researchers effectively cooled the cryogenic system to operating temperatures of about 25 milli-Kelvin (mK) and wired a quantum processor inside. Such temperatures are required to support state-of-the-art physics experiments and potentially run large quantum processors.
The super-refrigerator contains 1.7 m3 of experimental volume, enabling it to cool a volume larger than three home kitchen refrigerators to temperatures colder than outer space, versus previous fridges, which are in the range of 0.4 m3 to 0.7 m3. The experimental cryogenic system delivers such cooling by use of a cryostat to remove heat from a helium-3 and helium-4 isotope mixture.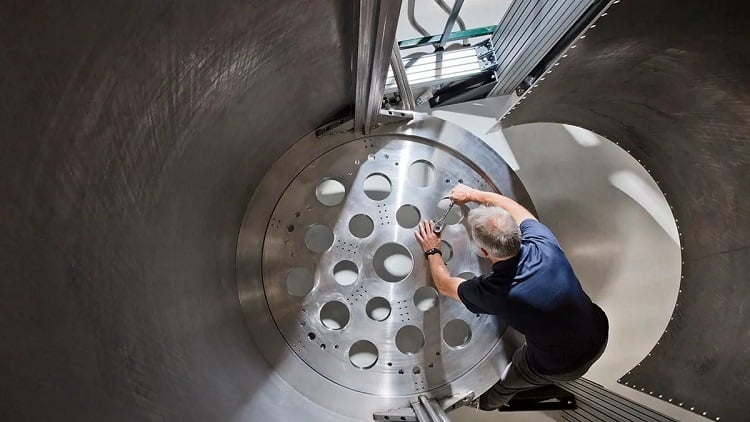 IBM researcher adjusts the bottom of the "super-fridge," a dilution refrigerator larger than any commercially available today. Source: Connie Zhou for IBM
The modular dilution refrigerator can also hold up to six individual dilution refrigerator units, enabling close to 10 mW at 100 mK cooling power, and over 24 W of cooling power at 4 K temperatures.
When tested with a qubit chip, IBM researchers successfully reproduced coherence times of around 450 microseconds, similar to those measured on other commercial dilution refrigeration systems.
The development is expected to contribute to the near-term deployment of IBM Quantum System Two, showcased in the video above as a next-generation system designed to house future quantum processors.