It's said that adversity breeds character—and that certainly seems to be the case for the global DRAM market, which has achieved some maturity in the face of daunting challenges, allowing the industry to achieve a balance between supply and demand this year.
After DRAM wafer output peaked in 2008 at 16.4 million 300-millimeter-equivalent wafers, production is expected to decline by 24 percent to 13.0 million this year, according to an IHS DRAM Dynamics Market Brief from information and analytics provider IHS.
The projected cut will be the second straight year of deliberate downsizing following an 8 percent drop-off last year. This year's output is expected to be slashed by 5 percent compared to 2012, as shown in the attached figure.
Curtailing DRAM capacity is a positive move for the industry, resulting in a gradual normalization between supply and demand for DRAM. The industry is now believed to be perhaps slightly undersized relative to demand moving forward because of the intentional slash in output, and DRAM pricing can continue to remain firm if production remains slightly behind demand.
DRAM revenue in the first quarter rose to its highest level in nearly two years, thanks to a jump in commodity prices spurred by demand from the server PC and mobile PC segments. Pricing for the bellwether 4-gigabyte DDR3 module rose to $23 in March, up from $16 in December, an unusually large increase.
"The DRAM industry has struggled with major challenges in recent years, including chronic oversupply and slowing demand from its main market, the PC business," said Mike Howard, senior principal analyst for DRAM and memory at IHS. "This has led to continued weak pricing, financial losses and market revenue declines. However, the DRAM industry has entered a more mature state, enacting structural changes that will allow it to grow even in challenging market conditions."
DRAM market enters the post-PC era
In one major change, the DRAM market is adjusting to the fact that demand is diversifying away from PCs alone to servers and mobile devices.
Nearly 65 percent of all DRAM bit shipments went to a desktop or laptop 10 years ago, but that figure is less than 50 percent today and will fall further to south of 40 percent by the end of next year.
Meanwhile, servers and mobile gadgets like smartphones and tablets command an increasing share of DRAM bit shipments. By 2015, IHS projects that mobile market will account for more than 50 percent of DRAM.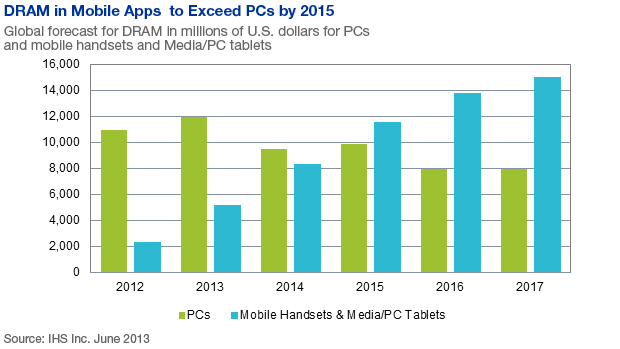 The overall result is that the travails of one segment—like the embattled PC space—won't be able to disrupt the entire market, lacking the size and critical mass to do so. The server and mobile segments also help by using more specialized products that require a more involved design-in process, thereby reducing the commodity nature of the DRAM that the segments consume.
DRAM downsizing
In another change that has benefited the hypercompetitive industry, a number of DRAM suppliers in the past few years have either reduced their presence or have altogether exited the market.
The Taiwanese are no longer the powerhouse suppliers they used to be, while notable DRAM makers Qimonda of Germany and Elpida Memory of Japan have gone bankrupt and have been bought out by other players. By the end of this year, only three DRAM manufacturers will remain—Samsung and SK Hynix of South Korea, and U.S.-based Micron Technology. With fewer entities to influence the market, a more conservative approach toward capacity expansion is expected, and more stable growth can follow.
Process deceleration
A final factor helping the global DRAM business is the slower pace of advancement in DRAM manufacturing processes. Each new generation of DRAM manufacturing technology is now taking longer to arrive.
The engineering challenges associated with shrinking DRAM size smaller than 30 nanometer— and eventually below 20 nanometer—are considerable.
The slowing cadence in manufacturing process evolution is resulting in slower bit growth, which is keeping supply in better balance with demand.
The challenge of constant undersupply
While the current state of intermittent undersupply is favorable to the industry, a state of persistent undersupply could backfire and prove harmful. Large, obstinate supply shortfalls will result in broader adoption of competing technologies as devices seek alternatives besides DRAM, and possible regulatory intervention could occur over perceived anticompetitive concerns.
Clearly then, it is in the best interest of the industry to manage supply so that it more closely matches demand—and thereby control its own future. Next year, manufacturers will need to seriously look at options for expanding manufacturing capacity to accommodate demand. But properly managed, DRAM prospects can remain healthy, IHS believes.