An electric vehicle (EV) battery pack design platform engineered by U.K. startup IONETIC is expected to reduce the development cost and time for automotive manufacturers bringing a new EV to market.
The software-based platform can boost energy density by 30% and increase utilization of pack volume by up to 120%, compared to existing off-the-shelf solutions. For example, many existing commercially available battery packs have energy densities of 130 Wh/kg to 160 Wh/kg. The Tesla Model 3 has a module energy density of 197 Wh/kg and a pack energy density of 156 Wh/kg. A Nissan Leaf module has an energy density of 191 Wh/kg and a pack energy density of 132 Wh/kg. IONETIC's battery modules have an energy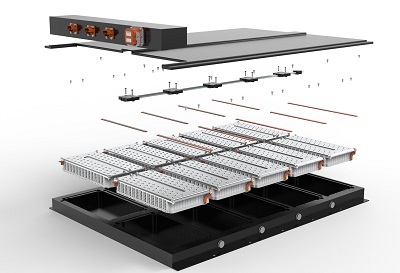 Source: IONETIC density of 226 Wh/kg and the pack architecture is most similar to Tesla, so a pack energy density of at least 180 Wh/kg is targeted. This offers a 36% improvement over the Nissan Leaf.
It can produce a battery pack design in days and reduce the costs of transitioning from requirements to mass manufacture by over 90% for automotive original equipment manufacturers. These benefits stem from the platform's ability to automatically generate designs according to a series of fully adjustable parameters, while offering a vertically integrated solution to battery pack production, which includes homologation and mass manufacture.
The company plans to open its first U.K.-based battery manufacturing facility in 2023, which will enable it to begin pilot production of its own battery pack designs.