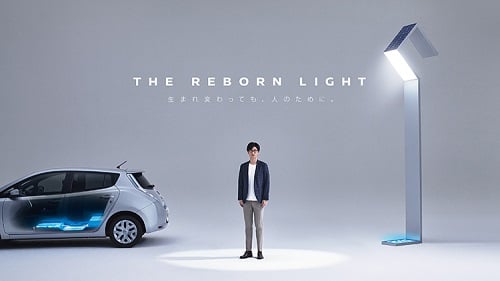 The street lights will be powered by solar panels making them off the grid. Source: Nissan
Nissan has sold more than 300,000 LEAF electric cars.
With so many on the market, there is a growing number of used electric car batteries that are becoming available as these vehicles increase in demand.
Now Nissan, along with its joint venture 4R Energy Corp., will utilize these used batteries to install and power new streetlights in the town of Namie, Japan.
The project, called Reborn Light, aims to provide public lighting for Namie's residents as part of the recovery efforts following the earthquake and tsunami on March 11, 2011. The project will use solar panels to power the used batteries, making the streetlights completely off the grid, requiring no electric cables or outlets.
Full-scale installation of the street lights with the used car batteries in Namie is expected to be completed this year.
Meanwhile, Nissan has also started an exchange program in Japan to swap old LEAF batteries for refabricated ones.
Owners of the electric vehicle can turn in used batteries and, for a fee, receive refabricated ones. Nissan says it will use the battery-refabrication capabilities of 4R Energy Corp., a joint venture with Sumitomo Corp.
Nissan says while demand for electric vehicles grows, the number of used batteries will increase significantly. By reclaiming these batteries, it will help lower battery replacement costs and heighten the used-car value of electric vehicles to promote their use and ultimately contribute to lower CO2 emissions.