General Motors will collaborate with Pilot Company to build a national coast-to-coast electric vehicle (EV) DC fast charging network open to all brands.
The network will be installed, operated and maintained by public EV charging vendor EVgo and the networks will be placed particularly along American highways connecting urban and rural communities from the East and West coasts.
In total, 2,000 charging stalls (about 500 charging stations) will be installed that will be open to all EV brands. GM said it will give special benefits to GM vehicle owners such as discounts on charging.
"We are committed to an all-electric, zero-emissions future, and ensuring that the right charging infrastructure is in place is a key piece of the puzzle," said Mary Barra, GM chair and CEO.
The collaboration
The goal of the collaboration is to install charging stalls at 50-mile intervals across the U.S. and follows GM's planned investment of $750 million in EV charging infrastructure. Other moves include:
Enabling access to more than 100,000 charge points in the U.S. and Canada through its Ultium Charge 360 ecosystem.
An additional deal with EVgo to build out a network of 3,250 charging stalls in major metro areas by 2025.
Installing up to 40,000 chargers in local dealer communities focusing on underserved rural and urban areas.
For Pilot Company, the project builds on its New Horizons initiative to invest $1 billion to upgrade its travel centers with more amenities and offerings such as free Wi-Fi, expanded seating and lounge areas, updated and modernized restrooms, on-site restaurants and fast EV charging.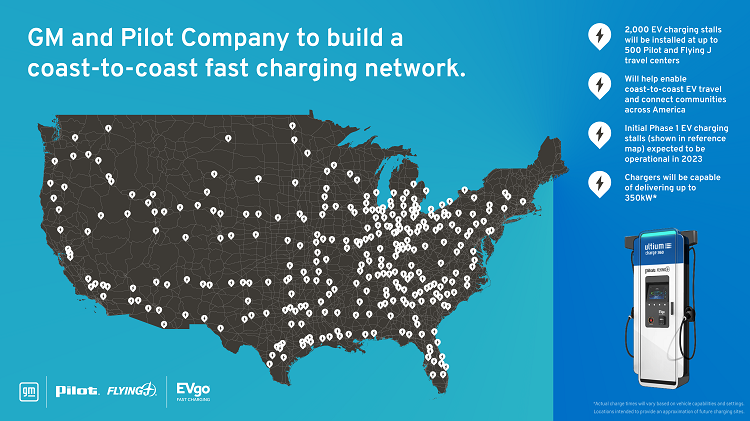 The planned locations of the EV charging stations that will be installed as part of a collaboration between GM, Pilot Company and EVgo. Source: Pilot Company
Charging expansion
The move continues the expansion of charging stalls and stations across the world as the automotive market ramps up for its largest transition in its history from gasoline- and diesel-powered to all-electric models.
Part of this expansion includes President Biden's plan to install 500,000 charging stations across the U.S. and electrify the entire government fleet.
Private companies are expanding their own networks as the need for more EV charging stations will be necessary to handle the expected surge in demand due to the transition to electrified models.
This includes Electrify America, which saw a fivefold increase in EV charging sessions in 2021 and has plans to add more than 1,800 total charging stations with more than 10,000 chargers in North America by 2026.
EV charging is also being expanded to more retail outlets including Starbucks, Walgreens and Bridgestone stores. Earlier this summer, Kroger said it would add 350 EV charging stations to grocery stores across the U.S. powered by Electrify America, EVgo, Tesla, Volta and more.