Smartphones are in frequent use to connect people, take pictures and aid navigation. They are an integral part of everyday lives. These ubiquitous handheld devices also emit radiofrequency (RF) radiation.
Data collected by the German Federal Office of Radiation Protection was used to visualize the RF radiation emissions of some popular smartphones in the market today. These emissions are gauged in terms of the Specific Absorption Rate (SAR), the unit of measurement that represents the quantity of electromagnetic energy absorbed by the body when using a mobile device.
Note that the Council of the European Union has set radiation standards for cell phones at 2 W/kg measured over the 10 g of tissue that is absorbing the most signal. Note also there is currently no significant research proving the harmful effects of phone radiation. However, those in contact with their devices for extended periods can at least quantify their radiation exposure and make choices about which brands serve their needs.
The Motorola Edge has the highest radiation emission with a SAR value of 1.79 W/kg, significantly higher than most other smartphone models available. Coming in second is the Axon 11 5G by ZTE with 1.59 W/kg, followed by the OnePlus 6T at a close third with 1.55 W/kg.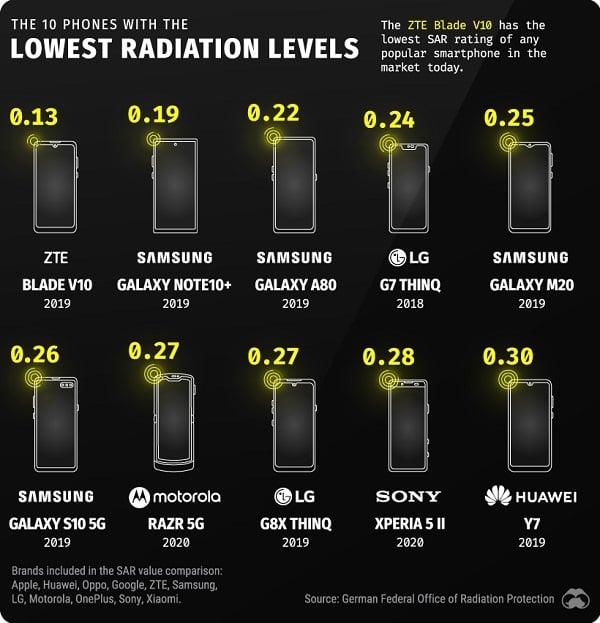 Source: German Federal Office of Radiation Protection
The smartphone with the lowest SAR value is the ZTE Blade V10, with 0.13 W/kg. Mobile devices by Samsung carry some of the least radiation risks, with the Galaxy Note 10+ emitting only 0.19 W/kg.
Explore cellular phone and radiation detection technologies and suppliers on GlobalSpec.com