Automotive brands in Russia are facing dual pressures of international public opinion and corporate losses due to the ongoing war in Ukraine, affecting Renault-Nissan, Hyundai and Volkswagen, according to new data from TrendForce.
The Russian war on Ukraine has led to automotive factories in Russia closing and the import of vehicles has stopped due to sanctions on Russia. TrendForce said that if foreign-funded companies choose to permanently suspend business or withdraw from the market, the Russian government is likely to nationalize its business assets.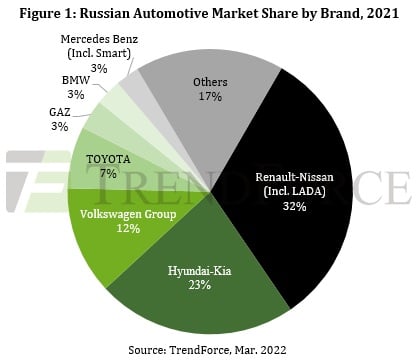 The top automakers by market share in Russia. Source: TrendForce Renault-Nissan acquired the Russian brand Lada and currently has a market share of 32%, the largest automotive brand in the country followed by Hyundai with 23% and Volkswagen at 12%.
Renault-Nissan is the largest shareholder of domestic automaker Avtovaz. If Russia nationalized or sales are lost, the impact to Renault cannot be underestimated, TrendForce said. Even if production is resumed at some point, the depreciation of the ruble will greatly increase the cost of importing components.
Renault issued a statement that it would be suspending activities at its manufacturing plant in Moscow and is assessing available options for its stake in Avtovaz.
Three factors
The Russian-Ukrainian war will not only affect automakers directly and the supply chain, sales and revenue in Russia, but will also impact the world in the short term and potentially the long term if geopolitical issues are not solved, TrendForce said. This is leading to a continued slowing of the automotive industry recovery.
TrendForce said there are three major factors impeding the automotive recovery.
The production of vehicle components in Ukraine has been halted.
Russia produces upstream raw materials such as nickel and palladium for vehicle manufacturing.
Inflationary pressures have risen sharply, leading to rising costs of living and a reduction of consumer spending power.