The viability of any technology, from the simplest to the most complex, is a function of the degree to which it can be tested — and that's exactly why even small incremental developments in the validation and verification realm are so important to the bigger picture. Case in point: a recent trio of minor announcements from Keysight Technologies that, considered out of context, might not seem like big news. But seen in perspective, each can be seen as an important building block for 5G networking and 5G-enabled devices, as well as the development of 6G.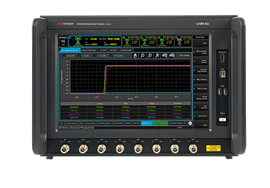 The E7515B UXM 5G Wireless Test Platform is one small building block in a far bigger universe. Source: Keysight TechnologiesOne announcement, for instance, notes that Keysight has enhanced its 5G Network Emulation Solution to support the latest 3GPP Rel-15/16/17 features. Over the past year, as the company explained in a press release, these new updates have enabled chipset makers to develop and verify the performance of advanced 5G chipsets offering new capabilities. Keysight has collaborated with chipset makers to realize what it said are several industry-first 5G achievements — including a 10 Gbps downlink IP data throughput demonstration in June 2021 and a 3.5 Gbps UL IP data throughput demonstration in January 2022.
The 5G network emulation solution leverages the company's UXM 5G Wireless Test Platform, an integrated and compact signaling test platform with multiformat stack support, rich processing power and RF resources, to emulate a 5G NR network.
Another announcement describes how Keysight, using its S8705A RF/RRM and DVT Conformance Toolset, became the first to gain approval from the North American mobile operator organization PTCRB for test cases that accelerate certification of certain 5G devices — specifically those that support carrier aggregation (CA) using FR1 spectrum. As the company explained, mobile operators are deploying 5G NR in standalone (SA) mode to deliver faster connection times and speeds and flexibly create network slices.
And finally, in another first, Keysight announced that it was granted a Federal Communications Commission Spectrum Horizons Experimental license for developing 6G technology in sub-Terahertz (THz) frequency bands, between 95 GHz and 3 THz. The company said the license will enable it to develop cutting-edge technology used by researchers in academia and the industry to accelerate innovations supporting data-intensive high-bandwidth applications, imaging and sensing.
"Innovations in sub-THz spectrum will support use-cases such as immersive telepresence, digital twins and extended reality…real-and-virtual combined environments and human-machine interactions generated by computer technology and wearables," said Keysight 5G and 6G program director Roger Nichols. "Using the FCC Spectrum Horizons license enables Keysight to strengthen our commitment to 6G technology, which will allow innovators to pioneer across the novel terrain of future-generation communications systems."