NORD DRIVESYTEMS will exhibit the latest innovative drive solutions at MODEX 2022, held March 28-31 at Atlanta's Georgia World Congress Center, focusing on technology for warehousing, distribution and logistics. NORD's modular design offers nearly unlimited versatility with more than 20,000,000 unique combinations of gearboxes, electric motors and variable frequency drives (VFDs). From conveyors to storage and retrieval devices, NORD is able to meet a wide range of needs.
NORD will display these specialized solutions for the logistics industry at booth B7222:
NORDAC ON/ON+ VFD
NORD developed the NORDAC ON/ON+ VFDs to meet the specialized requirements of horizontal conveyor technology and for the combined use with the new IE5+ synchronous motor generation. The VFDs feature an integrated Ethernet interface, PLC functionality, full plug-and-play capabilities, and a very compact design that can be wall or motor mounted. When combined with the NORD modular system, NORDAC ON/ON+ VFDs offer a reliable, highly efficient, economic solution for industrial internet of things (IIoT) environments.
Key advantages:
Useable over a wide frequency range
Future-ready with IIoT capability, firmware update via Ethernet, and integrated PLC
Power ranges up to 1.27 HP
Plug-and-play solution for fast commissioning
IE5+ ultra high-efficiency synchronous motors
The new generation of NORD electric synchronous motors offers the highest operational efficiency on the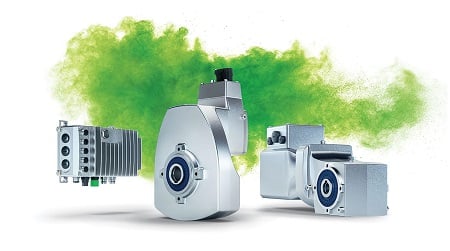 Source: NORD market today with IE5+ technology. These motors feature a compact footprint that can be installed quickly and easily, even in applications where installation space is limited. They produce energy savings, reduce product variants, minimize operating costs, and operate at the same efficiency even under partial loads and low speed ranges. IE5+ motors are compatible with NORD's modular product system and are available as a non-ventilated variant (N-design) for hygienic wash-down areas or as a ventilated variant (F-design) with a high overload capacity suited for intralogistics.
Key advantages:
Power range of 0.5 HP to 5.4 HP
Optionally available with IP69K protection or nsd tupHTM sealed surface conversion
Flexible motor mounting: direct mounting, NEMA, IEC
Constant high efficiency over entire adjustment range
Reduced total cost of ownership and fast return on investment
U.S. availability

71N design available now
90N, 71F and 90F design available Q3 2022
LogiDrive — The solution for intralogistics
NORD's LogiDrive solution combines a gear unit, motor and VFD to create a solution that is secure, flexible and 4.0 ready. As a complete package, LogiDrive delivers high efficiency and supports large speed ranges to generate automation for stacker cranes, automated transports and a variety of conveyors for high volume warehousing, manufacturing and packaging systems.
The LogiDrive system consists of:
High efficiency two stage bevel gearbox
IE5+ permanent magnet synchronous motor
Decentralized VFD
Power plug connector
M12 connectors
Incremental encoder
Pre-assembled cables
Standardized hollow shaft diameters
Two stage helical bevel gear units
Two stage helical bevel gear units feature efficient operation in a modular design. They are made from a high-strength aluminum alloy and available in two housing designs — open for better heat dissipation for high axial and radial loads and closed for easy cleaning in wash-down applications. These robust gearboxes excel in light conveying and processing applications, providing a more efficient and reliable solution than a typical worm unit.
Key advantages:
Flexible input and output configurations
Foot, flange or face mounting
Quiet operation
Up to 97% efficiency
Large speed range
High efficiency for low operating costs
NORDBLOC.1 inline gear units
NORDBLOC.1 units are characterized by quiet, reliable performance with a housing design that offers easy cleaning. These innovative and patented gear units do not have bore plugs or assembly covers, and their smooth surface prevents pooling of liquids and solids. High axial and radial load capabilities enable safe operation and the large speed range provides flexibility in applications. Due to reinforced bearings, these units deliver a long service life, granting a low total cost of ownership and fast return on investment.
Key advantages:
Power range 0.16 HP to 50 HP
High strength, torsionally rigid housing
High output torque
Available with nsd tupH and smooth surface motors
Condition monitoring for predictive maintenance
Condition monitoring for predictive maintenance focuses on status-based maintenance rather than time-based maintenance. Operating and drive data are recorded periodically or continuously to optimize the operational safety and efficiency of machines and systems. The data analysis can then be used to extract important information about the drives such as optimal oil change time, early detection of suboptimal operating conditions, and threshold values. The goal of condition monitoring is to proactively maintain machines and plant facilities, reduce downtimes, and increase overall plant efficiency.
Key advantages:
Early detection and avoidance of suboptimal operation conditions
Machinery and plant downtimes can be planned
Longer service life of components and machines
Increase system availability