QCM Cranes is now offering Wika Mobile Control's PRS90 wireless multi-sensor indicator on their 40 and 50 series boom trucks. The PRS90 offers monitoring for up to eight sensors at once. The system can be used to update older trucks that now require wireless systems. The technology is simple to use and easy to install, according to Wika.
Currently, all 4033R and 5034R boom trucks loaded with the PRS90 are being utilized in the precast concrete industry. The learning curve with the technology is minimal and makes it a great fit with less experienced mechanics in the field. The system is designed to handle harsh working environments that cranes see on the jobsite daily.
The PRS90 features a color graphic display (4.3 inches) and offers wireless sensor options for angle, load and anti-two block.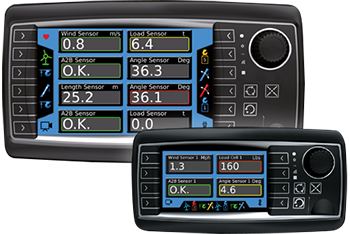 Source: Wiki Mobile Control
Specifications:
For use in hydraulic, lattice, industrial, port, harbor and offshore crane applications
4.3 inches or 7 inches. Color graphic display with 2.4 GHz wireless technology
Monitors the status of up to eight sensors at one time
Any combination of wireless or hardwired sensors
Displays up to eight sensor values at one time
Sensors include load, boom angle, wind speed and anti-two block
Operator pre-set limits with audible and visual warning
Protection rating: IP66
Meets industry standards for indicating devices
Installs quickly and easily