Test and measurement engineers, take notice: Two new product announcements from Rigol, a solutions provider based in Portland, Oregon, could open up workflow to a host of new applications.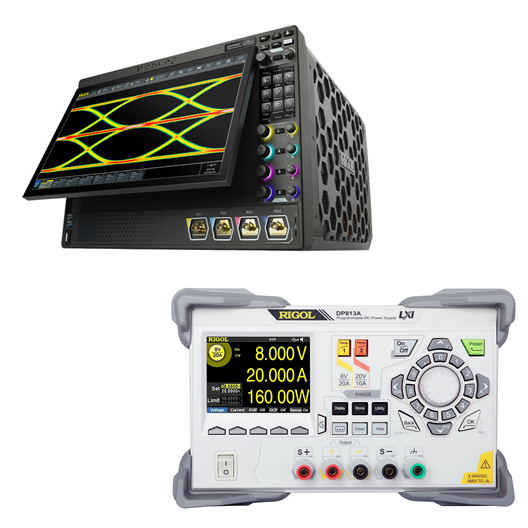 The StationMax DS70000 Series oscilloscope, top, and new models in the DP800 Series of linear DC power supplies have recently been released. Source: Rigol Technologies Inc.First, the StationMax DS70000 Series, which the company refers to as "its most powerful oscilloscope ever." The StationMax is powered by Rigol's new UltraVision III platform, which leverages a custom front-end application-specific integrated circuit (ASIC) chipset. Capabilities include real-time spectrum analysis, multi-domain analysis, eye diagram and jitter analysis, high speed bus compliance and serial bus decoding.
Here's a quick rundown of the specs:
Available models: 3 GHz or 5 GHz bandwidth
Maximum sample rate: 20 GSamples/sec
Memory depth: 500 Mpts standard, upgradable to 2 Gpts
Waveform capture rate: 1 million waveforms/sec
Resolution: 8 bit analog-to-digital converters (ADCs), up to 16 bit vertical resolution in high-resolution mode
The StationMax also features a new interface designed for its 15.6 inch multi-touch display, with an electronically controlled tilt function to optimize viewing and usability. To simplify analysis, the display isolates key measurements in separate windows. It also features separate scale and position knobs for engineers who prefer tactile control.
Rigol has also released a new family of high-speed precision probe solutions that complement the StationMax. Available in 3.5 and 7 GHz models, the active differential probes feature automatic spacing controls with three user-defined settings, a work light and automatic color-coded LEDs that match the signal on the display.
In addition to the new oscilloscope series, Rigol has also addressed the trend toward higher-current applications for power, battery and telecommunications equipment with an expansion of its DP800 Series of linear benchtop DC power supplies. The new, higher-current models (up to 20 Amps) provide a programmable linear power supply with high current, low ripple and high precision, making them suited to applications including optical communication module testing, chip and integrated circuit testing, semiconductor testing and industrial ATE verification.
Specs, which vary by model, include
DP813/DP813A models
One output
Eight V/20 A (low range)
20 V/10 A (high range)
Total power up to 200 W
DP822/DP822A models
Two isolated outputs
20 V/5 A and 5 V/16 A
Total power up to 180 W
The "A" model indicator in each family, by the way, is Rigol's designation for an "advanced" version of the device, which the company describes as offering improved resolution, and advanced monitoring, triggering and programming capabilities.