A new radar sensor for measuring distances is claimed by German tech startup OndoSense to offer the widest measuring range and the smallest blind range available. The apex sensor reliably measures even in the most difficult industrial environments with dirt, smoke, oil mist or adverse light conditions.
A measurement accuracy of up to 1 µm, a sensing range of 0.1 m to 50 m, and high (300 Hz) operating frequencies are promised. The lens has an opening angle of just 4°, ensuring reliable measurements using a tiny measuring spot.
Potential applications include distance and dimension measurements, presence control, positioning of objects hidden by packaging or plastic sheets, detecting obstacles to avoid collisions and precision positioning of machines in several dimensions.
The narrow sensing angle is said to differentiate the sensor from rival products. "Many providers of radar sensors are trying to narrow down the opening angle on the software side," explained OndoSense's co-founder and chief technology officer, Dr. Axel Hülsmann. "Our customized lens meets the desire of many customers for focused measurements with a small opening angle and a maximum of precision and measuring frequency. If necessary, a sensor variant with a very wide opening angle is also available – for collision-avoidance applications, for example."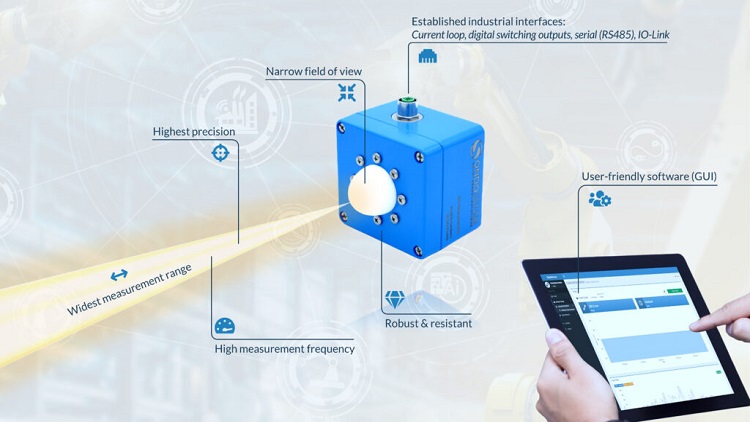 With an opening angle of just 4°, the device promises a measurement accuracy of up to 1 µm and a sensing range of 0.1 m to 50 m. Source: OndoSense
Browser-based configuration software makes it easy to commission the sensors and can be used to visualize the reflections (peaks) of the radar signal. Smart peak selection algorithms allow users to select desired target objects and hide others. The peaks can be sorted by signal strength or distance. In addition, dynamic or linear thresholds can be defined.