There's a lot of product news to report this month from German test and measurement solutions provider Rohde & Schwarz. The company recently has announced the release of a new microwave measurement receiver, four new "economy model" vector network analyzers (VNAs) and a multireflector extension to an established compact antenna test range (CATR) based test chamber.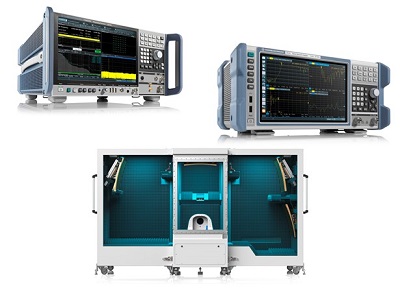 New test and measurement products from Rohde & Schwarz include, clockwise from top left, the FSMR3000, the ZNL20 and the ATS1800M. Source: Rohde & SchwarzFirst, the R&S FSMR3000. According to the company, the new microwave measurement receiver was developed for calibrating signal generators and attenuators with a single instrument, reducing the complexity of calibration for the aerospace and defense industry. Features include tuned RF level measurements, level measurements, analog modulation and spectrum analysis. Both digital and analog modulation signal analysis are supported.
There is an option for extending calibration to VHF omnidirectional range (VOR) and instrument landing system (ILS) signal generators, without the need for an additional tester. The instrument also can be equipped with hardware for high-end phase noise testing to supplement the standard capabilities of its spectrum analyzer. Available in 8 GHz, 26.5 GHz and 50 GHz configurations, the R&S FSMR3000 supports bandwidth analysis up to 80 MHz.
Next, one doesn't often hear talk of "economy models" in the context of precision test and measurement equipment, which is why the new R&S ZNL and R&S ZNLE vector network analyzers caught our eye. According to the company, these instruments are intended for the education, service lab, production and automated testing markets and, as such, offer a balanced price/performance ratio, small size factor and ease of use. With support for up to 20 GHz of operation frequency, applications include signal and power integrity applications as well as cable and filter testing.
Additionally, the small size and light weight of the new devices support transport between test stations or labs. Users can start measuring with the instruments at the push of a button; no external monitors, notebooks or additional software installations are needed. The R&S ZNL also offers an optional battery pack for field use.
Finally, the R&S ATS1800M is presented as a side-chamber extension to the ATS1800C, Rohde & Schwarz's CATR-based test chamber for over-the-air (OTA) testing. According to the company, the new multireflector device turns the existing test chamber into the only single-system solution enabling full 3GPP-specified conformance testing of a 5G NR mmWave device for radio resource management (RRM), including multiple angles of arrival (AoA).
The ATS1800M design picks up where that of the ATS1800C began. The gold-plated CATR reflector in the earlier device creates a large usable measurement area, or quiet zone (QZ), in a compact form factor. The new device offers four CATR reflectors with overlapping QZs, allowing the device under test to be exposed to signals arriving simultaneously at different angles — just like in a real network. The extension is both retrofittable to existing ART1800C units and reversible.