The assurance of pure signal generation and reception is a fundamental building block for improving devices based on radio frequency (RF), enabling increased data rates for communications and higher resolution for radar.
That concept was also a fundamental building block for the development of the R&S FSPN, a new device from test and measurement solution provider Rohde & Schwarz. The R&S FSPN is a phase noise analyzer and voltage-controlled oscillator (VCO) tester built for production and design engineers who characterize sources such as synthesizers, VCOs, oven-controlled crystal oscillators (OCXOs) and dielectric resonator oscillators (DROs). The company said the device provides very high sensitivity and measurement speed, making it a match for demanding phase noise and VCO analysis in development and production.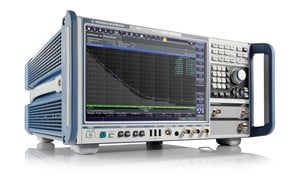 The R&S FSPN is designed for "measurement speed taken to its limit." Source: Rohde & SchwarzTwo models are available: the R&S FSPN8, covering the frequency range from 1 MHz to 8 GHz, and the R&S FSPN26, which expands the upper end of that range to 26.5 GHz, addressing radar and satellite applications in the C band, X band, Ku band and the complete K band. Together, the new models expand Rohde & Schwarz's phase noise product portfolio, which includes the R&S FSWP phase noise, spectrum and signal analyzer. Features from the R&S FSWP, such as low-noise internal local oscillators coupled with real-time cross-correlation engines for increased measurement sensitivity, are also carried over into the R&S FSPN.
Those cross-correlation sensitivity gains are relevant to users in production, who will find that only a few correlations are needed to measure high-quality oscillators, synthesizers or VCOs with high throughput. At the same time, users in R&D will find that increasing the number of correlations will enable them to characterize the most sensitive commercially available synthesizers and oscillators.
The R&S FSPN is also equipped with three ultra-low-noise DC sources to supply and sweep VCOs. The built-in VCO characterization measurement mode analyzes VCO characteristics such as frequency, sensitivity, RF power or current draw versus tuning voltage. For a more in-depth view of the device under test (DUT), the spot-noise versus tune measurement mode combines a sweep with ultra-low-noise DC sources plus fast and accurate phase noise measurements. VCO harmonics can also be measured versus tuning voltage without an additional spectrum analyzer.
The bottom line seems to be that the new device is well-poised to help users save time, increase measurement throughput and speed up device development — features that the company summarizes as "measurement speed taken to its limit."