Speedy electric vehicle (EV) charging is promised by a new modular charging system from ABB, reportedly capable of delivering 100 km (62 miles) of range in a matter of minutes.
A key feature of the Terra 360 is the dynamic power distribution delivered to four vehicles simultaneously, eliminating much of the wait time to plug in an EV. The new charger has a maximum output of 360 kW and is capable of fully charging any electric car in 15 minutes or less. A lighting system is designed to guide the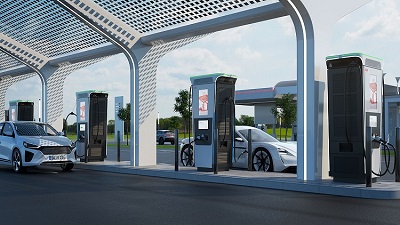 Source: ABBuser through the charging process and shows the state of charge of the EV battery and the residual time before the end of an optimal charge session.
Featuring a small footprint, Terra 360 chargers can be installed to meet the needs of EV drivers at fueling stations, convenience stores and retail locations, as well as those of commercial facility operators to charge electric fleet cars, vans and trucks.
The system will be available in Europe from the end of 2021, and in the U.S., Latin America and Asia Pacific regions in 2022.