Lithium-ion batteries are key to every internet connected device — from smartphones to tablets to notebooks — as well as power tools, lawn mowers and other yard devices. Their adoption in toys is also increasing as these children's devices become more sophisticated.
While much has been discussed regarding the rise in counterfeit semiconductors as a result of the ongoing chip shortage crippling parts of the supply chain, not as much is known about counterfeit batteries and the dangers these fraudulent devices cause.
With e-commerce booming, bad actors are flooding the market to take advantage of a $5.4 trillion market that is forecast to grow by 2022, according to eMarketer. In the case of using counterfeit batteries, a device featuring such batteries could potentially be destroyed or cause permanent injuries to consumers.
As more devices are requiring lithium-ion batteries, a growing number of resellers are emerging in the market. As such, retailers may not be monitoring resellers to ensure counterfeit items are not getting through due to such a large volume of products coming to market.
This leads consumers to be confused by claims of the batteries legitimacy and they are lured by the lower cost — due to a lack of testing and the use of lower quality materials, poor design and shoddy manufacturing.
With the rise of counterfeits in the market — making it challenging for consumers to choose the right battery — many manufacturers and trade associations are working to support legislation against counterfeit products being sold online, according to the Power Tool Institute.
What are counterfeit batteries?
Counterfeit batteries are fakes or unauthorized replicas of the real product. However, they are branded or advertised to work with the tools, devices or toys where real batteries would apply.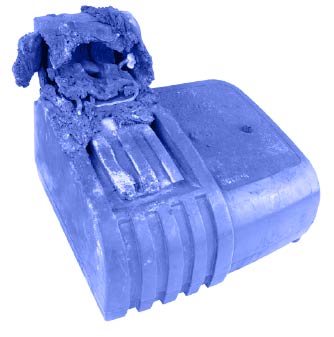 A counterfeit battery that has eroded due to lower quality materials, shoddy manufacturing or poor design. Source: Power Tool Institute These fake batteries are often produced to take advantage of the value and trademark of an imitated product. Typically, these batteries are made of lower quality components and are not certified by any recognized lab. They may still, however, carry a sticker that fraudulently claims they have been tested and approved.
These batteries are not tested or designed for compatibility and have not been manufactured to the same standards as OEM batteries. The knockoffs may be listed to a general battery safety standard, but none is guaranteed. This means counterfeit batteries are generally at greater risk for fire hazard or other dangers than OEM batteries.
The danger
All lithium-ion batteries carry risk. If an interruption in the manufacturing process or a tool needs maintenance, a real lithium-ion battery could have issues.
This was widely seen in 2016 when the batteries used in Samsung's Galaxy Note 7 smartphone overheated causing fires and injuries to consumers. Samsung found that battery malfunctions in the negative electrode layers of the lithium-ion batteries were incorrectly positioned.
Counterfeit batteries that are not intentionally designed to work with a specific smart device or tool and charging system could result in a battery catching fire or exploding, resulting in injury, property damage, poor performance, shorter lifespan, damage to the device or tool and voiding most warranties.
How to buy a legit battery
The best way to avoid buying a counterfeit battery is to purchase a battery directly from an OEM or authorized dealer.
If that is not a possibility, check the comments and history of the sellers on e-commerce sites and always follow the adage that if a price sounds too good to be true, it probably is.
Just this month, EverC, a cyber intelligence and risk management company, introduced its MarketView technology platform to help consumers filter through potentially fraudulent products in the market. MarketView uses artificial intelligence and machine learning to analyze test, images and metadata on e-commerce marketplaces to identify counterfeit products.
The technology reviews millions of products per day and removes illicit and recalled products to protect consumers.