Energy storage systems with cabinet-type enclosures offer advantages in terms of capacity, footprint and access. However, these structures provide little room for exhaust fans to vent flammable gases that can result from failed cells and cause explosions. A sensor system has been engineered at U.S. Pacific Northwest National Laboratory (PNNL) to prevent such conditions in outdoor battery cabinets.
The IntelliVent deflagration-prevention system is designed to open cabinet doors intelligently to vent the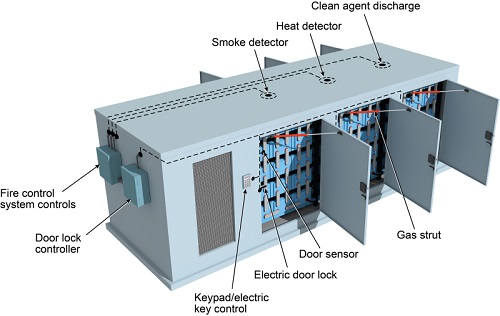 The system intelligently opens the battery enclosure doors and exhausts fumes that can otherwise cause an explosion. Source: PNNLcabinet interior at the first sign of explosion risk. This functionality provides passive dilution of accumulated flammable gases, minimizing the potential for catastrophic explosion and reducing the risk of personnel injury.
The system combines automatically controlled door locks with a smart controller that manages signals from fire safety inputs, such as smoke, heat or gas detectors. All doors can be activated to automatically open simultaneously and immediately as needed to help ensure worker and facility safety. Requirements in NFPA 855 and the International Fire Code now necessitate explosion mitigation measures for cabinets, and IntelliVent is the first system of its kind designed to address these safety needs.