Fiber test and measurement supplier Viavi Solutions has introduced the Viavi Optimeter as a new type of network test tool to speed and simplify last mile optical fiber activation and maintenance.
It is estimated that 250,000 technicians will be tasked with new fiber installation and maintenance duties over the next three years in order to keep up with the demand for broadband deployments worldwide. This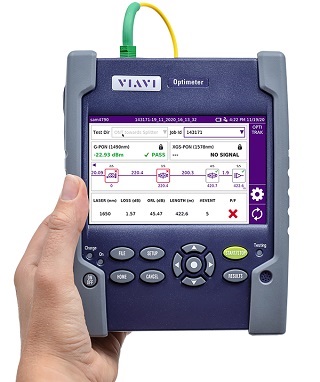 Source: Viavi Solutions rapid growth is driving the need for fiber certification tools that are extremely easy to use to ensure successful service turn-up on the first truck roll, thereby avoiding activation delays and excessive installation costs.
The optimeter delivers full certification of the last mile drop installation and turn-up with on-the-go troubleshooting to improve first time install success rates while reducing unnecessary handovers, drop fiber replacements and repeat truck rolls. Ensuring that passive optical network/fiber-to-the-home (PON/FTTX) last mile installation and maintenance happens right the first time, it can be the make-or-break difference between turning a profit on new customer installations or suffering a loss due to delayed customer revenue or churn.
The device displays all information on a single screen for instant fault diagnosis and determines optical network unit/optical network terminal connectivity without premise access. Results are auto-saved with an on-board report generation tied to work order and are also directly submitted to the StrataSync Test Process Automation suite.