Vuzix smart glasses, currently available in Europe, are bringing augmented reality (AR) technology to construction surveying. Now compatible with Topcon Positioning Group's MAGNET software suite, Vuzix smart glasses combine time savings and cost efficiency with hands-free usage.
The visual aids on the lenses of Vuzix smart glasses and the ability to control instruments via voice commands provide onsite building information modeling technicians, digital engineers, surveyors, contractors and layout personnel increased accuracy, precision and productivity when laying out and measuring points on a job site.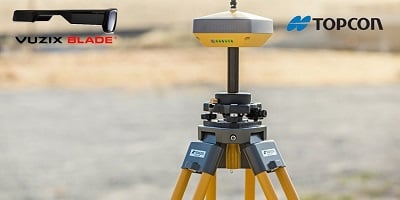 Smart glasses work in conjunction with software to deliver precision layouts with substantial cost and time-saving benefits. Source: Vuzix CorporationSurveyors and engineers can more easily set out markers and monitor quality assurance with hands-free access to positioning data. The smart glasses can increase safety and situational awareness because workers do not have to look down at a tablet to capture and mark points.
Topcon's MAGNET Construct is a cloud-connected field controller app for positioning layout and as-built applications utilizing Topcon and Sokkia robotic total stations and global navigation satellite system devices, according to the company's website. "This new compatibility with Vuzix Smart Glasses represents the next generation of surveying equipment in the European market," said Adam Box, business development manager vertical construction at Topcon Positioning Group.
Both AR and VR (virtual reality) have been developed for use in the construction industry for training and safety. Researchers from Ruhr University (Germany) developed VR technology to check critical areas of construction sites to better plan safety measures and train workers to be more aware of dangers. Abiola Akanmu, a researcher at Virginia Tech, combined AR and hologram technology to develop site training for the school's construction engineering students.