Horiba Mira, an automotive engineering research house, is close to completing construction on its autonomous vehicle development center in the U.K.
The facility will allow self-driving vehicles to be tested with control in scenarios that can be tailored for each automotive need such as traffic merging, emergency braking, smart parking, highway cruising and lane assistance technology conducted under international regulatory protocols.
Set to be completed in March 2021, the $133 million facility will include numerous testing facilities such as:
A high speed closed loop track for scenario-based testing.
Urban environments to test vehicles against pedestrians, cyclists, complex junctions and on-street parking.
A purpose-build multi-story car park with automated valet parking — where car passengers exit a vehicle and the vehicle finds its own parking space only to be returned to the passenger for pick-up autonomously when requested.
A 5G mobile private network provided by Vodafone for vehicle-to-vehicle and vehicle-to-infrastructure communications, infotainment and cybersecurity testing.
Portfolio of digital replicas for simulated testing that can be scaled and accessed virtually from anywhere worldwide.
An on-site network of campus roads with 185 miles of networked roads equipped with a range of intelligent transportation systems enabling real-world road trials.
Advanced robotic targets and junction layouts for protocols and a full suite of advanced driver assistance system (ADAS) testing.
Scenario-based testing
Self-driving car testing has become big business with multiple companies testing vehicles on public roads to get data on vehicles and passenger experiences. However, public road testing does not allow companies to test all the technology involved in autonomous vehicles, such as testing an emergency braking system against a pedestrian running into the road or other specific scenarios.
The goal of the autonomous vehicle hub is to test these scenarios without involving danger for persons or vehicles on public roads.
"On a public road there's too many variables and elements of randomness, you're not able to recreate the exact same situation twice, meaning there's added variables to try to correlate your technology to or understand why a particular sensor acted in a certain way," Chris Reeves, head of connected and autonomous vehicles at Horiba Mira, told Electronics360.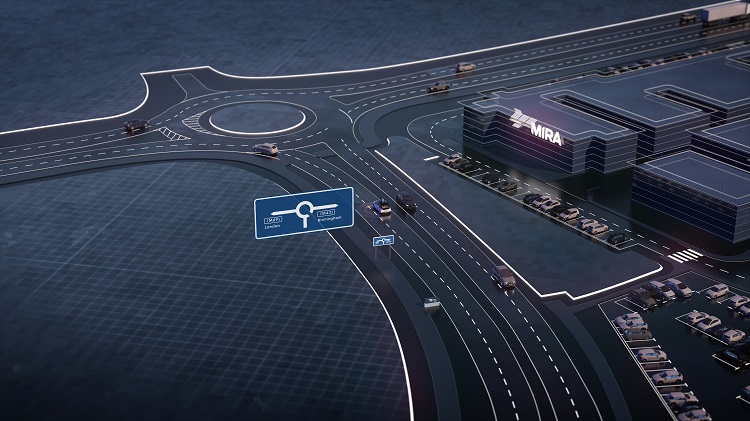 An artist rendering of the on-site network of campus roads at the Horiba Mira self-driving technology center in the U.K. Source: Horiba Mira
In a closed loop test facility, car testers are in control over the other variables allowing them to change scenarios or fix a scenario to match the vehicle technology a company might be testing. Reeves said public road testing is important and plays a significant role in self-driving car development, but most of this testing is searching for scenarios instead of testing them.
To gain consumer acceptance for connected and automated technology, it is paramount for self-driving technology to navigate its way safely through scenarios first and physically test the technology as it would happen in the real world without restrictions, he added.
5G's role
The next generation wireless technology, 5G, will be established at the self-driving car hub as a private network that will compliment the physical environments with a communication layer for internal vehicle development.
"A car now is likely to be the biggest consumer electronic purchase due to connectivity and embedded electronic systems, increasingly vehicles will rely on data in order to perform tasks — whether it's over the air updates, safety critical messaging to warn of upcoming hazards and take evasive action, or even just streaming infotainment for passengers," Reeves said.
5G will allow companies to demonstrate these systems for connected and autonomous vehicle capability, he added.
Smart parking rising
The Horiba Mira development center is constructing an entire parking garage dedicated to smart parking and testing the technologies used to enable vehicles to park themselves. Automated valet parking is becoming one of the first true use cases for automated driving and has created momentum to solve this technological challenge.
The smart parking testing garage under construction that will test technologies to enable cars to park themselves. Source: Horiba Mira
In fact, smart parking testing has gained a tremendous amount of traction in 2020, with several pilot projects either already in progress or set to begin soon. Projects include Ford and Bosch's Bedrock Assembly Garage project in Detroit, Human Horizons Level 4 autonomous valet system trial in Shanghai and Fetch.ai's AI and blockchain project in Munich called M-Zone.
Smart parking is believed to save as much as 15% of the time it takes consumers to find parking spaces, thus saving fuel, and accommodating more vehicles than if drivers just park the cars themselves, thus saving space.
Smart valet parking also offers a new type of convenience for drivers and passengers. The idea is that a car pulls into a smart garage, the vehicle then navigates autonomously to a parking space by connecting to a network inside the garage that directs the vehicle to an open space. When the driver is ready to retrieve the vehicle, they either use a smartphone app or connected platform inside the garage and the car autonomously returns.
"It means you don't have to search in large car parks for open spaces and then navigate your way out of that parking structure to your destination — you can achieve much more of a door-to-door service being picked up and dropped off where you want or as close to as possible with a designated area," Reeves said.
Additionally, smart parking offers benefits to cities such as freeing up land and building space for other uses The Horiba Mira parking garage will allow automotive OEMs and technology developers to replicate an unlimited amount of parking situations with the communications protocols in place to meet regulatory needs and timelines, Reeves added.