In a step forward for autonomous mobility and a first for the China Association for Automobile Manufacturers, a new standard test method for millimeter wave (mmWave) automotive radar has recently been published. The standard establishes unified requirements for Chinese radar manufacturers, with the goal of improving the safety of advanced driver assistance systems (ADAS) such as autonomous emergency braking.
One aspect of developing the standard was leveraging the capabilities of National Instruments (NI), an American developer of automated test and measurement systems. Its Vehicle Radar Test System (VRTS) is designed as a single source solution able to streamline the process of meeting the needs of various users at different stages of testing.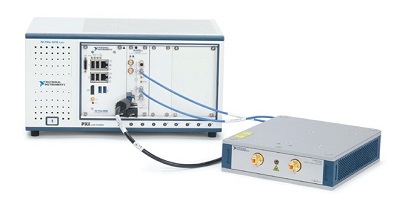 Developing a new standard for testing mmWave automotive radar in China relied upon NI's Vehicle Radar Test System. Source: National InstrumentsPrior to the standard, test methods would be designed by collecting requirements from a long list of stakeholders including OEMs, research and development teams, component manufacturers, module design teams and others. "The process was lengthy, cumbersome and not scalable," explains Qianhui Yang, a radar test technical expert at Radsys, one of the companies involved in writing and reviewing the standard.
VRTS provides automated radar measurement and obstacle simulation capabilities for 76 GHz to 81 GHz vehicular radar systems with 1 GHz or 4 GHz of bandwidth. According to NI, additional capabilities include:
Obstacle range from 2.5 m to 300 m
Range resolution down to 5 cm
Support for obstacle simulation and radar measurements in parallel
Highly repeatable simulation of multiple radar obstacles
Synchronization with NI PXI modular instruments for complete ADAS test applications
Configurable options to optimize for cost, test complexity or increased requirements
In conjunction with NI Alliance Partners, the system can provide customized turnkey software experiences based on end-user requirements. It is also compatible with third-party RF measurement instruments.