The U.S. Navy is contracting Lockheed Martin Corp. to provide a submarine-based electronic warfare system.
The AN/BLQ-10(V) will feature full-spectrum radar processing to filter hostile, neutral and friendly emissions. It receives, analyzes and reports critical signals of immediate importance to the vessel's commanding officer. Lockheed said a robust interface with the nonpropulsion electronic systems tactical network is key to the AN/BLQ-10(V)'s tactical utility.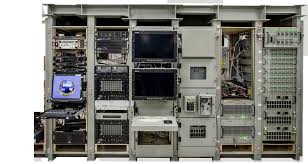 The AN/BLQ-10(V) system. Source: Lockheed Martin Corp.The system's other features include quick search primary and secondary threat warnings, mission tasking, situational assessments, COTS and NDI software and a flexible open architecture.
The AN/BLQ-10(V) will complement Lockheed's existing electronic warfare system range. The company's other offerings include surface and airborne electronic warfare systems and the Symphony Counter-Improvised Explosive Device (C-IED) system, of which over 4,000 are deployed in support of U.S. ground forces.
Last month, the Navy announced a $7.7 million award modification to the original task order for the system. The delivery order is currently valued at $60 million with a completion date in mid-February 2021. The work will be completed at Lockheed's Syracuse, New York, facility.