Two new test solutions from Keysight Technologies are available to help automotive industry engineers, designers and manufacturers develop high-quality, high-performance products that improve safety in any driving conditions and enable emerging advanced driver assistance systems (ADAS).
Rapid developments in autonomous vehicles and demand for greater safety features are fueling the need for sensitive and accurate automotive radar technology. The Radar Target Simulator (RTS) was developed to help automotive electronics manufacturers confidently simulate radar targets in various realistic scenarios. The RTS performs multi-target, multi-angle testing for radar modules in a lab environment and delivers fast, accurate and reliable results that balance throughput and quality. Design and verification engineers can quickly validate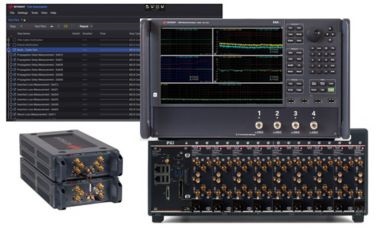 Source: Keysight Technologiesthe performance of radar products, while manufacturing and design validation engineers are able to simulate multiple objects at variable distances. By allowing users to bring a real-world test environment into their lab, Keysight's RTS delivers substantial time and cost savings.
Next-generation ADAS systems require camera and radar systems with high resolution, which depends on increased speed and bandwidth. Automotive Ethernet enables faster data communication to meet the demands of today's vehicles and the connected vehicles of the future. However, the channel or link in a system can create a point of failure and as such must be fully tested.
To address this growing challenge, Keysight has developed a new automotive Ethernet channel test software solution to verify that information is carried, without loss or cross talk, to its intended destination.
Key features of Keysight's new automotive Ethernet channel test software solution include:
Creation of a test plan that includes all required tests as per the specification.
Automatic set up of the network analyzer for each measurement and applies defined test limits.
Detailed reporting for each test that has been run.