Sager Electronics, a North American distributor of interconnect, power and electromechanical components and provider of value-add solutions, is now stocking Calex's CEV series 300 W AC/DC battery charger.
The CEV series can be used as either an external charging source or installed on board a lithium-ion battery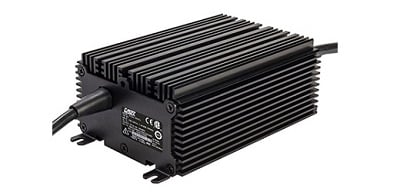 Source: Sager Electronicsoperated application. The series was designed to withstand extreme weather conditions and is an ideal product for use in harsh shock and vibration environments. The charger also can be easily integrated with a battery pack.
The CEV series design includes a universal AC input with an active power factor correction, which enables the charger to reach a peak efficiency of 95%. The series offers chargers for both 24 V and 48 V lithium-ion battery systems, making them ideal for applications such as e-mobility, electric scooters and electric utility carts.