Conducted immunity (CI) systems from Amplifier Research Corp. (AR) are self-contained conducted immunity test systems that offer streamlined setup and ease of use. These systems make it easy to conduct customized tests, and reports are generated directly into Microsoft Word or Excel. The use of spectrum analyzers and monitoring equipment may also be controlled by the Lab-View based software that controls the system.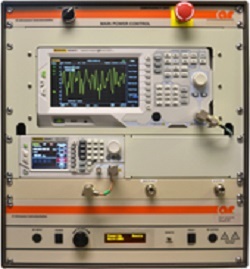 Source: Amplifier Research Corp.
The CI00402 radio frequency (RF) CI generator features a 100 W power amplifier with a frequency range of 9 kHz to 400 MHz. The system also includes a signal generator, spectrum analyzer, external directional coupler and AR emcware control software.
The RF amplifier, signal generator and spectrum analyzer can be used independently of the system. If special needs arise or standards were to change, a larger amplifier can be connected to the equipment. The use of the spectrum analyzer and signal generator may also be controlled by the software. Different configurations are available that add data acquisition capability or a laptop PC. An additional option offers a lower cost solution with all the functions and features of the full CI00402 base model without the cost of the internal amplifier.