Power Integrations has gone into production with its AEC-Q100-qualified flyback switcher with integrated 750 V metal-oxide-semiconductor field-effect transistor (MOSFET) and secondary-side sensing.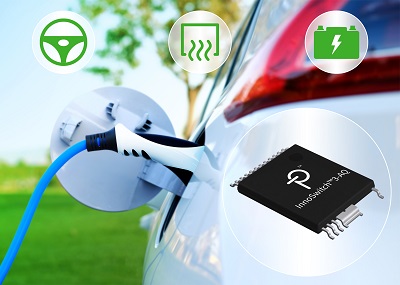 The InnoSwitch3-AQ flyback switcher for automotive applications. Source: Power IntegrationsThe AEC-Q100-qualified switcher is targeted at electric vehicle applications such as traction inverter, on-board charger, energy management DC/DC bus converters and battery management systems (BMS).
The InnoSwitch3-AQ flyback switcher uses Power Integrations' high-speed FluxLink coupling for ±3% accuracy for combined line and load regulation while eliminating both dedicated isolated transformer sense-windings and optocouplers.
The integrated 750 V MOSFET meets automotive de-rating requirements and an on-chip synchronous rectifier controller delivers above 90% efficiency at the nominal 400 V DC input voltage.