It has been about one year since the launch of 5G services with South Korea being one of the first countries to deploy 5G networks in the world.
Since launching 5G services, SK Telecom has signed up about 2.22 million subscribers and accounts for a 44.7% share in the Korean market. Analysis of 5G subscribers show that people in their 30s and 40s are taking up 53% of the company's total 5G subscriber base, which is a higher proportion of people in their 30s and 40s in total LTE subscribers, which stands at 32%.
SK has increased customers' 5G experience and acceptance by creating about 70 5G clusters in key commercial districts and densely populated areas throughout the nation. The company said about 1 million customers visited 5G clusters like Jump Augmented Reality Zoo and 5G LoL Park.
Likewise, 5G subscribers reached 62,000 on average per month over the past three months (Dec. 2019 to Feb. 2020). In the same period, average monthly data usage of subscribers who switched devices from LTE to 5G has increased about two-fold from 14.5 GB (LTE) to 28.5 GB (5G) per person.
Additionally, 5G subscribers are using seven times more virtually reality services, 3.6 times more video streaming services and 2.7 times more game apps than LTE subscribers in the first months of 2020.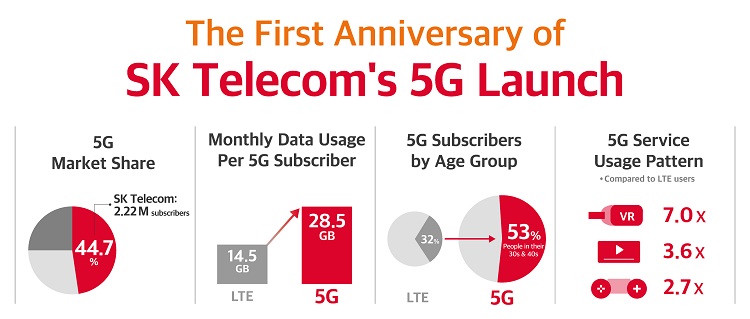 One year of 5G and the accomplishments that SK Telecom has made. Source: SK Telecom
Moving forward into 2020, SK said it will focus on differentiated 5G services for cloud service providers, device manufacturers and telecommunications companies. SK said it will work with Microsoft to prepare mobile cloud streaming games and will open a mixed-reality content production facility.
Currently, SK Telecom and Microsoft are providing 92 different games through the Project xCloud gaming service that will enable users to play high quality, premium games anywhere, anytime by accessing the cloud server Jump Studio.
Jump Studio will enable the creation of 3D content like holograms that will combine augmented and virtual reality technologies and accelerate the popularization of realistic media by reducing time and cost of content creation.
Additionally, the Korean telecom plans to release mobile device data with quantum cryptography technologies and security solutions to 5G users. SK also plans to build 5G mobile edge computing (MEC) centers in 12 different locations across Korea and will launch nationwide 5G edge cloud service with leading companies such as Amazon Web Services and Microsoft.