The specifications and figures of merit for analog and analog/digital components used for test, measurement and instrumentation were established long ago. Parameters such as integral and differential linearity, offset, and accuracy, among others, were the factors that defined potential performance. Both basic and sophisticated tests and subsequent analyses were developed and refined to measure these factors, as well as explore the legitimate differences in how they are tested and the results interpreted.
Figure 1. Understanding static A/D converter specifications begins with the transfer function, here for a 3-bit (8 step) device. (from Analog Devices, Inc.)
However, now that so much of the signal chain in the communications world (wired and wireless) has gone digital, as well as in related applications such as radar, those figures of merit are no longer the right ones. Instead it is parameters such as spur-free dynamic range, effective number of bits, signal-to-noise ratio, and others that tell the necessary story. The overall performance of a communications link or system—whether a cell phone, base station, software-defined radio, radar or other—depends on having components with adequate performance as defined by these parameters, and maintaining that performance as the components are connected together to form the signal chain.
Static parameters have served well, and still do
In the earliest days of analog and mixed-signal (analog/digital) applications, most system designs were related to test and measurement at the test bench, in field instrumentation, or even in an industrial-production setting. The sensors being measured encompassed temperature, position, speed, pressure, tank level, and angle, among others. The goal was to measure a signal's value as accurately as possible, and this "measurement" usually involved an analog/digital converter (ADC) or its complement, the digital/analog converter (DAC). Note that there are many parallels and similarities in the testing and specifying of ADCs and DACs, but there are also important differences; we will focus mostly on ADCs.
To test the ADC, known voltages are applied to it, and it implements a transfer function that maps each analog input value to its equivalent digital-output representation, Figure 1. (Note that similar tests are also meaningful for all-analog components such as op amps, except that the transfer function is analog in/analog out.) The primary figures of merit include:
Figure 2. Offset error is a fixed error across the entire signal range. (from Analog Devices, Inc.)
• Offset error, Figure 2: this defines how much the actual readout is shifted, by a fixed amount, across the entire scale. For example, for a three-bit converter, the output should be 000 for input at 0 V, but instead is one bit higher (001) and is also one bit higher throughout the range; thus, a reading that should be 100 is instead 101, and so on. In other words, the output is incorrect by a constant amount.
• Gain error, Figure 3: here, the output is different from what it should be, but by a constant percentage. It is equivalent to someone adjusting the volume a little too high or too low.
• Differential nonlinearity error, which assesses the linearity of the code transitions of the converter. Ideally it is a change of the equivalent of 1 LSB if voltage in the analog signal will result in a change of 1 LSB in the digitized output reading; ideally exactly 1 LSB of analog signal should be required to move from one digital transition to the next.
• Integral nonlinearity error: this is the deviation of the transfer unction from a straight line. It is usually assessed either by drawing a straight line through the mid-points of each digital code value, or by drawing a line through the end points. For applications where accuracy is critical, it is important to know which assessment technique is being used.
The two nonlinearities are often combined into a single nonlinearity specification, Figure 4. If the differential nonlinearity becomes large enough, the converter can become non-monotonic; this means that its output increases even as the input decreases, and vice versa. (This is often absolutely unacceptable; it is as if at certain points of the knob setting when turning up the heat on a burner, the flame goes down instead!)
T
Figure 4. Integral and differential nonlinearity errors are often specified separately, but can be combined into a single specification. (from Analog Devices, Inc.) his greatly simplified discussion of what are often called static or DC errors cannot begin to include the many subtleties of converter testing, even at low speeds. Setting up meaningful tests raises many legitimate questions about what different terms, phrases and parameters mean in different contexts. Component vendors and their test departments have developed well-defined, comprehensive sets of definitions, test scenarios and specifications based on these (and related) definitions.
Now, let's go dynamic
While the above "static" tests worked well for test and measurement needs, these assessments are not relevant to the world of communication links and signal conversion. This is the case even though these tests were only done at low sampling rates, but they were also done in the megasample/second (Msps) range and higher. The reason is that over the past few
Figure 5. The basic, well-established single-conversion superheterodyne receiver architecture is capable of excellent performance, because each functional block can be optimized independent of the others. (from http://oldradios.co.za/South Africa)decades, the signal chain for wired and wireless systems has been transformed from mostly or all-analog, to largely or almost entirely digital.
Consider a basic radio receiver for a voice channel, capturing and demodulating a narrowband audio signal on a 100-MHz carrier, Figure 5. The traditional single-stage superheterodyne receiver would amplify the signal from the antenna, filter it with a narrow bandpass filter centered around 100 MHz, down-convert it to an intermediate frequency by mixing it with a local oscillator, and then down to baseband, and finally demodulating it using analog circuitry or perhaps digital circuitry. This architecture has worked and worked well for over 70 years, and has been optimized and extensively refined.
Now the demands for signal-chain flexibility in operational parameters, the need to recover many modulation types and formats, and other factors have forced the signal chain to put the digital circuitry as close to the antenna as possible, with the ultimate design being the software-defined radio, Figure 6. Here, the signal from the antenna is amplified and goes through a coarse filter, then is immediately digitized with the results processed by firmware, usually in an FPGA. This ADC may have a bandwidth in hundreds of MHz and even GHz, and sampling conversion rates in the Msps and even gigasample/second (Gsps) range.
The traditional parameters used to assess the performance of the converters used in these applications are no longer meaningful or relevant. Instead a very different set of parameters is used. Factors such as internal jitter in conversion sampling time (even if the converter is driven by a "perfect" clock) will ripple into the observed performance. Testing is done by applying a "perfect" sine wave to the ADC, reading out the digital-conversion outputs in real time, performing a fast Fourier time (FFT)-based analysis on the resultant data stream, and then using the FFT results to derive and compute the final performance specifications.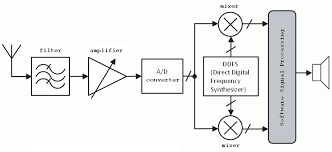 Figure 6. The software-defined radio pushed the digitization closer to the antenna and does the signal processing and recovery in firmware; it demands extremely high performance from the ADCs and DACs. (from Frank M. Howell, K4FMH)
Note that the real-time aspect is critical. These converters are used in applications where the signal is continuously streaming, and the conversion must be done in real-time; there is no "pause" or equivalent. Therefore the testing must reflect the continuous nature of the sampling performed by the converter. Among the top-tier parameters are:
• Signal-to-noise ratio (SNR): this is defined as the theoretical best performance that the converter can achieve, taking into account quantization noise (every converter has this type of noise, due to the nature of the discrete steps of the output). The SNR equals 6.02N + 1.76 dB measured over the Nyquist bandwidth from DC to fs/2, where N is the number of bits in the converter, and fs is the sampling frequency. Doing the math shows that the SNR for a perfect 10-bit converter is just under 62 dB.
• Signal to Noise and Distortion (SINAD or S/(N+D)) is the ratio of the root mean square (RMS) signal compared to the mean value of the root sum square (RSS) of all other spectral components, including harmonics (but excluding DC component). It is a good overall indication of the dynamic performance of the converter because it includes the converter's internal and thermal noise as well as distortion.
• Effective Number of Bits (ENOB), Figure 7: while a converter may be designed to have "x" bits of resolution, various imperfections in its performance due to noise, jitter, inaccuracy and other factors will reduce the actual resolution. For example, a nominal 12-bit converter may have an ENOB of 10.5 bits. Mathematically ENOB = (SINAD – 1.76 dB)/6.02.
Figure 7. Two critical parameters—SINAD and ENOB—are often combined in a single graph, here shown for the different input ranges of the AD9226, a 12-bit, 65-Msps ADC (from Analog Devices, Inc.)
• There is an additional specification that is especially critical to performance of converters in communications links: spurious (or spur) free dynamic range (SFDR), Figure 8. This is the ratio of the RMS signal amplitude to the RMS value of the peak spurious spectral content, measured over the bandwidth of interest. The SFDR encompasses all sources of distortion and error, regardless of underlying source. It indicates what undesired artifacts—spurs—are created by the conversion process, and these spurs will be seen by the signal-processing firmware as legitimate signals, because it cannot distinguish between genuine results and these spurs.
These are just a few of the many complex parameters used to characterize ADCs (and DACs) used for communications channels. Others include two-tone intermodulation distortion (IMD); one-dB compression point; second- and third-order intercept points; multitone SFDR; wideband adjacent-channel power ratio (ACPR); wideband adjacent-channel leakage ratio (ADLR); and noise-power ratio (NPR). Each of these will have different relative importance depending on the specifics of the application: the factors that affect digitizing a narrowband cell-phone signal are quite different from those of a radar-return echo in terms of how distortion and imperfections in the channel affect the quality of the outcome.
Both static and dynamic conversion specifications have a role in quantifying the performance of an analog or mixed-signal channel, its components, and especially its ADC and DAC. Testing to put numbers on these attributes is not trivial, especially as component speed and resolution increase. There are few
Figure 8. Spur-free dynamic range provides insight into any distortion or artifacts introduced by the ADC and which will, therefore, affect the results of the digital signal-processing function. (from Analog Devices, Inc.) "simple" tests, so careful reading of data sheets and vendor definitions of test conditions and setup is often an important part of the component-selection process.
References
Walt Kester, Analog Devices, MT-003, "Understand SINAD, ENOB, SNR, THD, THD + N, and SFDR so You Don't Get Lost in the Noise Floor."
Analog-Digital Conversion Handbook, Analog Devices, Chapter 7, "A/D and D/A Converters."
Maxim Integrated, Tutorial 728, "Defining and Testing Dynamic Parameters in High-Speed ADCs, Part 1."
Sanjay Pithadia, Texas Instruments, Application Report SLAA407, "Smart Selection of ADC/DAC Enables Better Design of Software-Defined Radio."