Researchers from MIT created a smart diaper embedded with a moisture sensor that alerts caregivers when a diaper is wet. Wet diapers can cause painful rashes if not changed quickly. When the sensor detects dampness in a diaper, it sends a signal to a nearby receiver and notifies the caregiver through their smartphone or computer.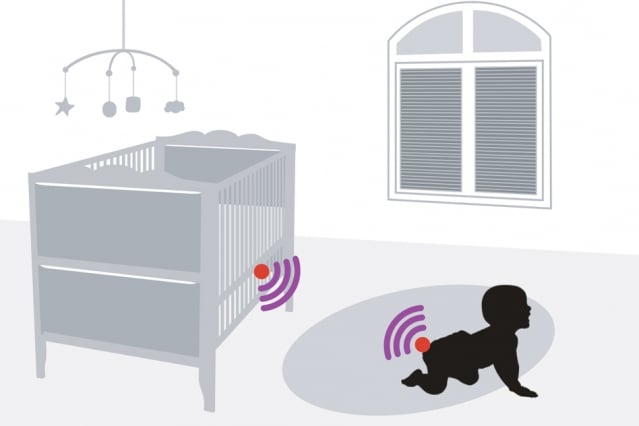 A new disposable, affordable "smart" diaper embedded with an RFID tag is designed by MIT researchers to sense and communicate wetness to a nearby RFID reader, which in turn can wirelessly send a notification to a caregiver that it's time for a change. (Source: MIT)
The sensor is a passive radio frequency identification tag (RFID) and is placed below a layer of superabsorbent polymer. This hydrogel is used in diapers to soak up moisture. When the hydrogel is wet, the material expands and becomes slightly conductive. This triggers the RIFD tag, which sends a radio signal to an RFID reader up to one meter away. It costs less than two cents to manufacture the sensor and because the RFID tags are low cost and disposable, they can be printed in rolls of individual stickers.
The sensor resembles a bow tie. The middle holds the RFID chip and the triangles are made of a hydrogel superabsorbent polymer (SAP). SAP is an insulating material that becomes conductive when wet - the signal is weak, but it's enough to react to radio signals. The current turns on the sensor's chip and sends information to a reader through a radio signal. There are two elements in the RFID tags - an antenna backscatters radio frequency signals and the RFID chip stores information.
Smart diapers would be useful for nurses in neonatal units where they are caring for multiple babies at a time. It could also be integrated into adult diapers. Ultimately this device would prevent infections in both infants and aging populations.
A paper on this technology was published in IEEE Sensors.