The contact lens of the future could perform services other than vision correction. A soft contact lens made of hydrogel-based material with embedded electronics may find use as lenses with sensors or as a drug-delivery system for the treatment of different eye disorders.
The semi-passive smart lens incorporates an LED light, an ultra-thin silicon microchip, a radio‐frequency (RF) antenna for wireless energy transfer and stretchable thin‐film interconnections. In addition to power transfer, the RF link can be applied to calibrate the integrated transducers and read the sensors out into a handheld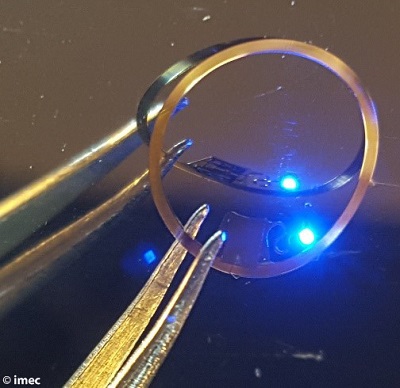 Self-standing flexible RF antenna with thin microchip, LED light and stretchable interconnections. Source: Imecdevice for further post-processing.
The interconnect substrate is based on thermoplastic polyurethane (TPU). This material offers a low glass transition temperature, relatively low hardness, proven biocompatibility, optical transparency, conformal fitting, oxygen permeability and flexibility comparable with soft contact lenses. Its viscoelastic nature supports thermoforming planar structures into spherical caps with a well‐defined curvature.
The oxygen permeable, thin and wrinkle‐free contact lenses with integrated electronics were realized by precise fine-tuning of thermoforming parameters and strain-release pattern optimization. Future research will focus on developing active lenses with extended power autonomy to power and readout the integrated transducers and on the design of micro-transducers compatible with stretchable systems.
Researchers from Belgian research group Imec, Ghent University and Japan-based contact lens manufacturer SEED Co., Ltd. engineered the device. The spherical‐shaped electronics were made by Imec and SEED Co. was responsible for the seamless integration of these elements into the hydrogel-based soft lens.