Nvidia Corp. has released a new video depicting tests of its Drive Constellation platform and operating test cars on public roads nears its headquarters in Santa Clara, California.
In the video, safety drivers remain at the wheel, monitoring the system and various software. The company is testing its perception building block algorithms, which are mathematical models inspired by the human brain that learn by experience. The DriveNet DNN technology enables a data-driven understanding of obstacles while computing the distance to these obstacles. LaneNet is a technology that helps with lane detection and perceives navigable paths.
Other technology being tested includes WaitNet, LightNet and SignNet that detect and classify wait conditions such as at intersections, traffic lights and traffic signs.
Map testing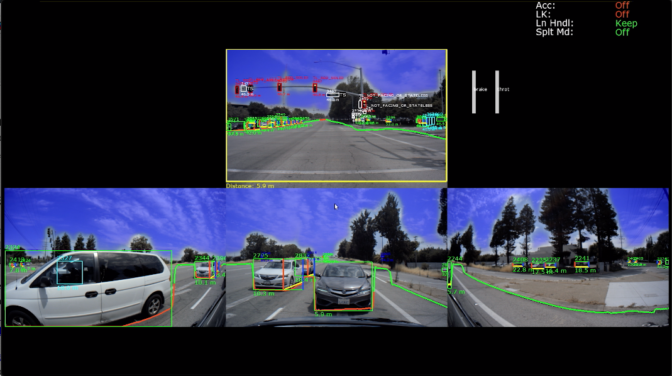 How Nvidia's sensors view the road in its autonomous vehicles. Source: NvidiaAdditionally, Nvidia is testing localization software. The system anaylzes high-definition map information, route information and real-time localization results to create an origin-to-destination lane plan for its target route. The system provides information when a self-driving car needs to stay in a lane, change lanes or negotiate traffic movements along the route. This technology also tracks vehicle location and estimated time-of-arrival.
The Nvidia Drive AGX platform runs all of these components in the vehicle, enabling 360° surround perception, localization and planning, and control software in real time, the company said.