German-based automotive technology firm Continental AG has completed its first set of driving test results using swarm intelligence called dynamic electronic horizon (eHorizon) for next-generation advanced driver assistance systems (ADAS).
On the road, it is increasingly important to know what lies ahead and even with better traffic reporting and digital road maps it is not enough, Continental says. What is needed in next-generation telematics and ADAS is precise information about road characteristics such as gradients, curve radii, temporary speed limits, lane changes due to construction work and other information.
"The Internet will not only extend the selection of on-board infotainment, it will also directly improve the vehicle," says Ralf Lenninger, head of system development, innovation and strategy at Continental's Interior division. "The principle behind this; The better the information base, the safer, more efficient and more comfortable the vehicle." Lenninger says gathering up-to-date and reliable information about the road network in an "Internet of cars" is the future of vehicles.
Continental is testing the reliability of dynamic eHorizon in a series of new demo vehicles that are connected to a backend platform via a mobile radio module—allowing for a data exchange between the vehicles. The on-board systems then receive updated route and surroundings information such as topographical data or temporary speed limits.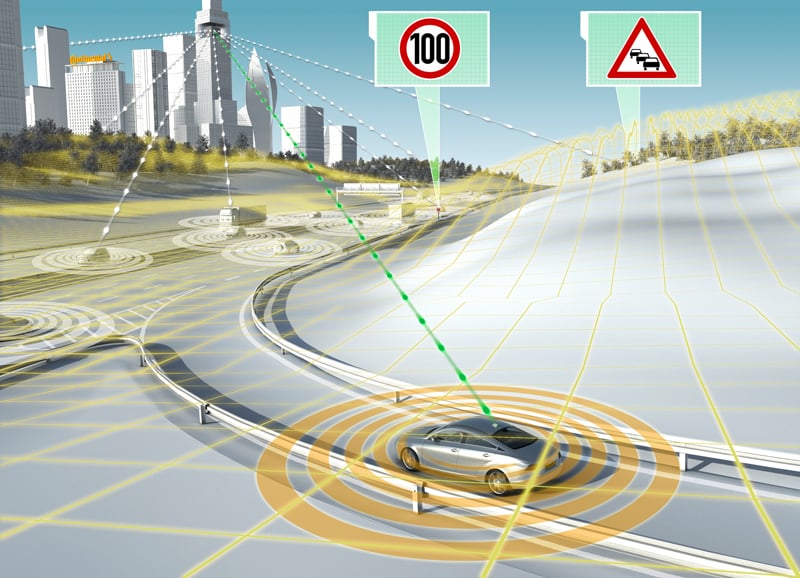 Using swarm intelligence, vehicles will inform each other with precise and up-to-date information on the road ahead. Source: Continental
Continental says the connected vehicles can also send feedback information from its own sensors and on-board systems to the cloud, which contributes to the updating of map material and additional information. This "swarm" principal is the basis for numerous intelligent applications Continental is testing.
When multiple vehicles report similar information about speed limits or temporary traffic signs, the eHorizon system updates the map in the backend and transmits it to the connected vehicles in the affected area. The system transmits the map section that is directly relevant to the drivers in the area.
"The dynamic eHorizon allows Continental to offer a solution with which vehicle manufacturers can perfect their advanced driver assistance system options, future drive technologies and traffic concepts," Lenninger says. "The high-performance backend system ensures that all users of this technology benefit from the up-to-date and increasingly detailed route data while also actively contributing to improving the accuracy and data quality of this information."