Optimus Ride, a Boston-based self-driving vehicle company, has brought the first public, autonomous vehicles to New York. Those vehicles, called Neighborhood Electric Vehicles (NEVs), will help shuttle 10,000-plus workers throughout the 300-acre Brooklyn Navy Yard, an industrial complex and shipyard located in northwest Brooklyn, along the East River.
For more than 150 years the Brooklyn Navy Yard produced warships for the U.S. military. Since its 1966 decommissioning, it has belonged to the city government, which has refocused the yard into an industrial park. Brooklyn Navy Yard has seen significant investment by technology and industrial companies, with much more expected. As many as 30,000 employees could be commuting to the Navy Yard once its redevelopment is complete.
That presents a significant logistics issue, which Optimus Ride is hoping to resolve. On August 7, the company deployed six autonomous NEVs on a 1.1-mile circuit between the Dock 72 ferry station and Cumberland Gate. Weekday operating hours are 7 a.m. to 10:30 p.m., with a different schedule on weekends.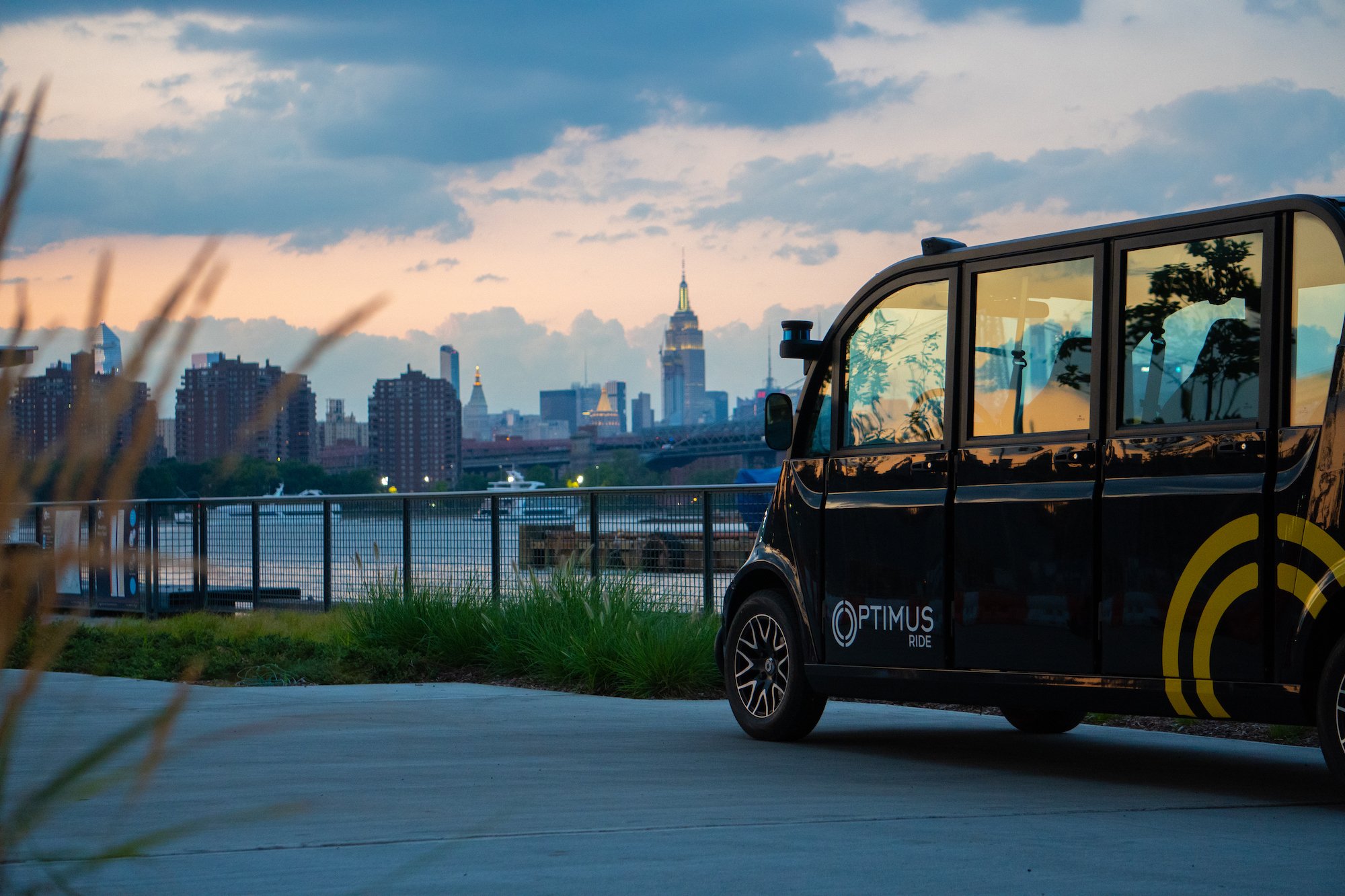 An Optimus Ride NEV along the New York harbor. Source: Optimus RideOfficials expect 500 daily riders and more than 16,000 monthly riders. Each NEV features six seats, although for now two seats will be occupied by Optimus Ride employees, one a safety driver and the other a software analyst. Eventually these vehicles will be monitored remotely from the company's Boston facilities, instead.
By implementing the NEVs on a private property, New York state's strict autonomous vehicle laws, such as a full-time, developer-paid police escort and approval from the state Department of Motor Vehicles, can be ignored. However, Optimus executives believe that a successful small-scale deployment will lead to more opportunities.
Optimus Ride noted that each testing location provides an opportunity to calibrate for different traffic challenges. They have previously deployed NEVs in Boston locations.
Some members of the media were invited to the Brooklyn Navy Yard for the NEVs' first day. General public riders were generally enthusiastic, although there are some notable operational caveats, such as the human drivers needing to perform three-point turns and parking.
(The accompanying video has been produced by PIX11 News. It is not affiliated with Electronics360.)