Multiple market forecasts have theorized that personal car ownership will decline drastically in the next decade. As a result, urban terrain, which has yielded millions of square miles of pavement to the automobile, will be forced to adapt.
Personal Vehicles Hit the Skids
Arriving at a consensus of how many passenger vehicles there are in the world is somewhat difficult, due to the varying degrees of record keeping by transportation authorities and reporting by owners. Ward's Intelligence pegs the global auto fleet at 1.32 billion at the end of 2016, not including motorcycles.
Although the United States has just 4% of the world's population, it also has 21% of the world's autos (271 million). Rapidly gaining second place is China (194 million), which added 100 million vehicles between 2010 and 2016. Rounding out the top five are Japan (76 million), Russia (52 million) and Germany (49 million). Altogether, the world has nearly doubled its vehicle population between 1996 and 2016.
Until quite recently, market forecasters and analysts expected that level of growth to remain, with some predicting 2 billion vehicles on the road by 2030 or 2040.
However, in the past couple of years there has been a dramatic shift in this forecasting. In 2017, Bob Lutz, a former vice chairperson of General Motors and automaker executive, wrote in Automotive News, "We are approaching the end of the line for the automobile because travel will be in standardized modules. The vehicles…will no longer be driven by humans because in 15 to 20 years — at the latest — human-driven vehicles will be legislated off the highways."
The argument is that interconnected, electric-powered, community-shared, autonomous vehicles will replace the vast majority of personal vehicles in a disruptive business called mobility as a service (MaaS). Lutz is not alone in his assessment.
"One out of ten new cars sold in 2030 may likely be a shared vehicle, which could reduce sales of private-use vehicles. This would mean that more than 30 percent of miles driven in new cars sold could be from shared mobility." –McKinsey & Company, 2016: "Disruptive trends that will transform the auto industry"
"The future is about better utilization. Although there will be less cars on the road, personal miles travelled will increase significantly." –KPMG, 2017: "Global Automotive Executive Survey 2017"
"Car ownership costs an average US$800 a month, before it's even been driven. And it won't be driven much anyway — most cars stand unused for over 90% of the time. Why buy a car, when — with a just a few swipes of an app — you can use a car whenever you want." –Automotive World, 2018: "Auto industry makes the CASE for the MaaS market car"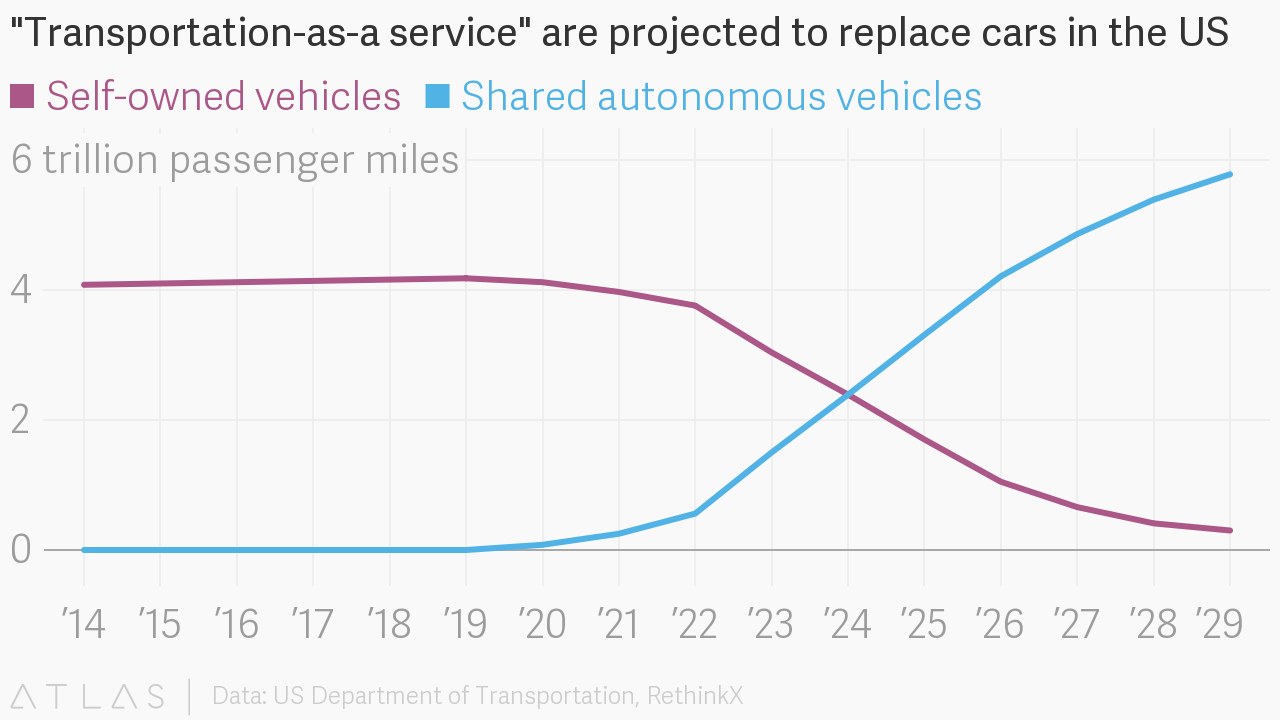 Source: Atlas/Quartz
This unprecedented market disruption will not happen overnight, and its concentration will be more obvious in cities at first. There will still be combustion-powered, manually driven vehicles for off-road, agricultural, construction and other niche applications. Nevertheless, this disruption is gradually finding footing in consumer minds as well as those of government officials. Among the locations that have committed to phasing out conventional-fuel vehicles: Madrid; Mexico City; Athens, Greece; Copenhagen, Denmark; France and the United Kingdom. Meanwhile, China and California are considering the same.
Asphalt, Asphalt Everywhere
In the U.S., the early rise of the automobile birthed automotive cities — urban locations that prized automotive accessibility over alternatives. Throughout the 1910s and 1920s, automobiles became more affordable. People appreciated fast, independent mobility, and after World War II, the boomer generation sought idyllic locations to raise a family, resulting in the explosion of the suburb. City thoroughfares expanded to accommodate more traffic, county roads took people to and from their jobs in the city, interstates facilitated everything from nationwide commerce and family vacations. The automobile became a culture unto itself, resulting in 4.07 million miles of paved roads in the U.S.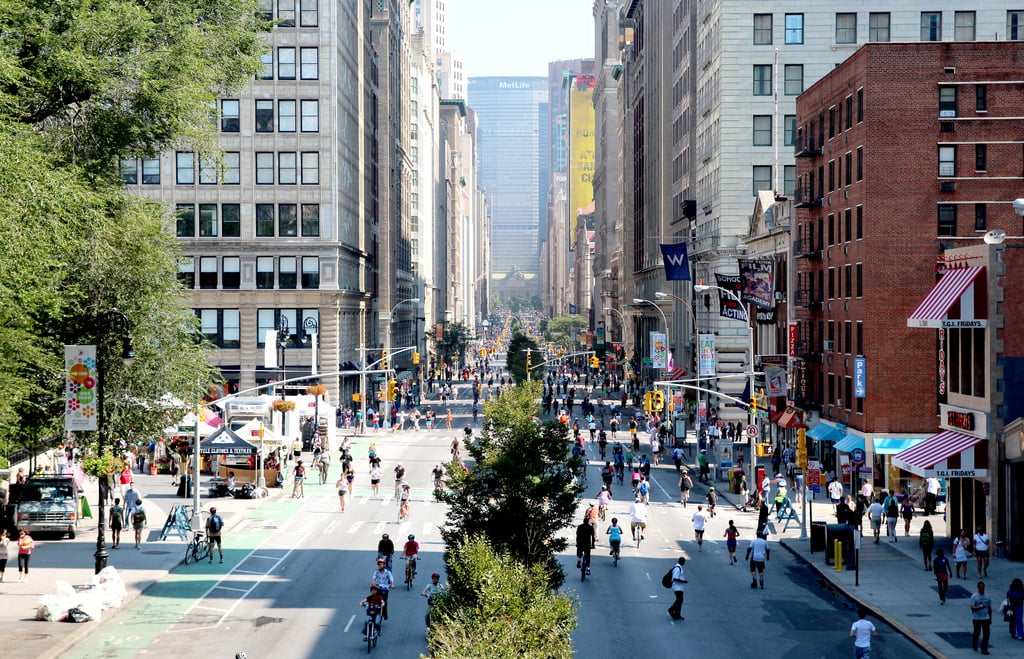 Summer Streets NYC opens up seven miles of Manhattan roads to pedestrians each summer. Source: NYC-Arts
Vehicles also need storage. A 2010 study from the University of California Berkeley's Department of Civil and Environmental Engineering found that there were 3.4 parking spaces per vehicle in the U.S. Informal estimates state that could be as high as eight spaces per vehicle.
If the number of vehicles on the road in the U.S. is even halved, the result is underutilized roads and highways, and massive parking lots and garages that might sit completely empty. Suddenly, the icon of suburban sprawl — the shopping strip mall — is even more unattractive than before.
This challenges urban designers and civil engineers to reintegrate swathes of roads and parking lots back into cityscapes. Avenues can be condensed, parking lots can be turned into greenspaces or structures, and smart infrastructure will make commuting more efficient.
In 2015, the U.S. Department of Transportation (DOT) issued the Smart City Challenge — $40 million would be awarded to a city that offers the most comprehensive plan to improve transportation efficiency via technology and data. The tech-savvy winner? Columbus, Ohio, and their plan lays the groundwork for the era of MaaS.
Autonomous and optimized public transit: apps and kiosks that help riders plan multi-modal public transit, including on a fleet of automated buses, with an emphasis on those with medical needs challenged by inefficient or lack of transportation.
Big data: data platforms offer transit officials and users a transparent view of traffic; drivers always know where parking is available and city planners can optimize traffic flow to accommodate events.
Interconnectivity: 175 intersections will communicate with data-enabled vehicles to improve traffic safety and throughput, including creating truck platoons for maximum heavy-vehicle efficiency.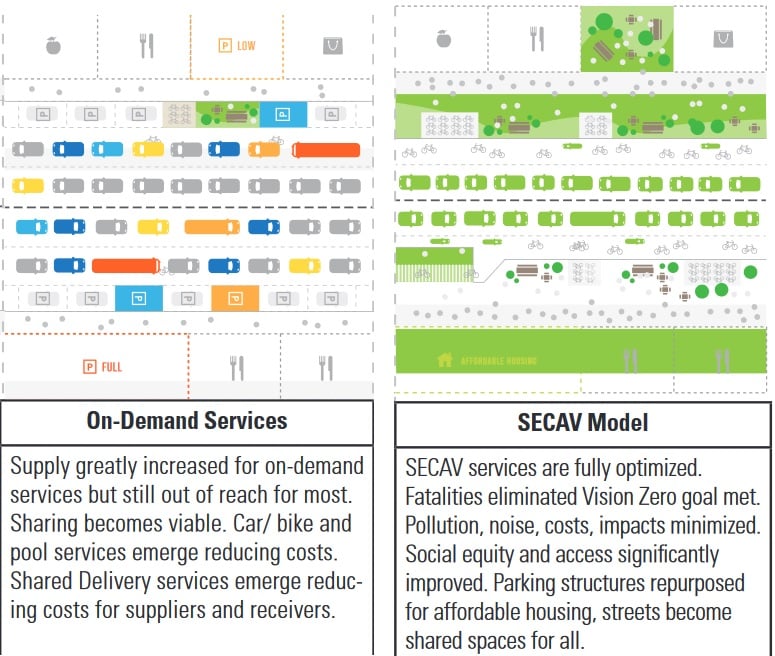 On the left, San Francisco's current transportation infrastructure, compared to an ideallized MaaS method on the left. Source: USDOTThe DOT compiled the trends and best ideas from the competition in the Smart City Challenge Lessons Learned report. Among the runner-ups was San Francisco, the development center of the autonomous EV technology that will power MaaS. Naturally, the city had a strong emphasis on the growth of autonomous EVs. The city saw itself condensing vehicle avenues and using leftover space for bike lanes, urban greenspaces or boulevards, dedicated public transit lanes or even affordable housing.
If MaaS takes hold, other cities with notorious traffic congestion, such as New York City and Los Angeles, could instead have normalized traffic and improved citizen populations. New York officials have at times considered congestion pricing to alleviate congestion in Manhattan. And New Yorkers have embraced their streets when given the chance. Summer Streets NYC is an event that closes vehicle traffic to seven miles of downtown roads so people can run, bike and do other outdoors activity in the streets they reclaim for three Saturdays each August. Nearly 300,000 people attended in 2017.
The Last Mile
The potential for mass MaaS is only improved by other recent personal mobility trends like bike shares and public e-scooters, which will likely complement good old-fashioned walking as last-mile transportation. Slowly and surely, personal automobile transportation is on pace to follow a hub-and-spoke transportation model, and it could vastly redistribute cityscapes.