Networks of seismographs are essential for studying and warning of earthquake events but their placement in deep ocean zones has been challenging. A suite of floating seismographs developed by an international research team offers the potential to fill in oceanic data gaps.
Mobile Earthquake Recording in Marine Areas by Independent Divers (MERMAIDs) are hydrophone-equipped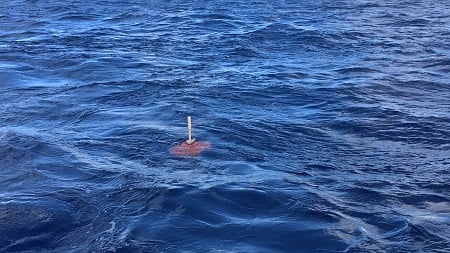 A MERMAID recently launched near Tahiti sends messages to a satellite before diving a mile underwater to begin monitoring for earthquake signals. Source: Frederik Simons, Princeton Universityunderwater robots that listen for the sound waves associated with marine earthquakes. The cylindrical devices drift with the current at a default depth of around 1,500 m (4,921 ft) and travel about two to three miles per day (3 to 5 km).
When seismic signals are detected, the MERMAID deploys an oil pump/bladder system to increase its buoyancy, rising to the surface within 95 minutes. It then determines its geographical location using GPS, after which it transmits recorded data via satellite to scientists onshore. Analysis of the data helps to determine the source of the sound waves, after which researchers can instruct the devices to re-submerge and continue monitoring or transmit other commands.
A two-year study deployed the MERMAIDS to form a monitoring network in the Galapagos region off Ecuador. The data recorded reveal that volcanoes on the island chain are fed through a narrow conduit from a source 1,200 miles (1,900 km) deep. This mantle plume phenomenon was first proposed 48 years ago, but has proven difficult to confirm due to a lack of undersea seismic stations.
The researchers are currently launching 50 of the devices in the South Pacific to study a mantle plume located beneath Tahiti.
Scientists from Northwestern University, Princeton University, Université Côte d'Azur (France), Escuela Politécnica Nacional (Ecuador), INOCAR (Ecuador) and Southern University of Science and Technology (China) contributed to this development. A research paper is published in Scientific Reports.