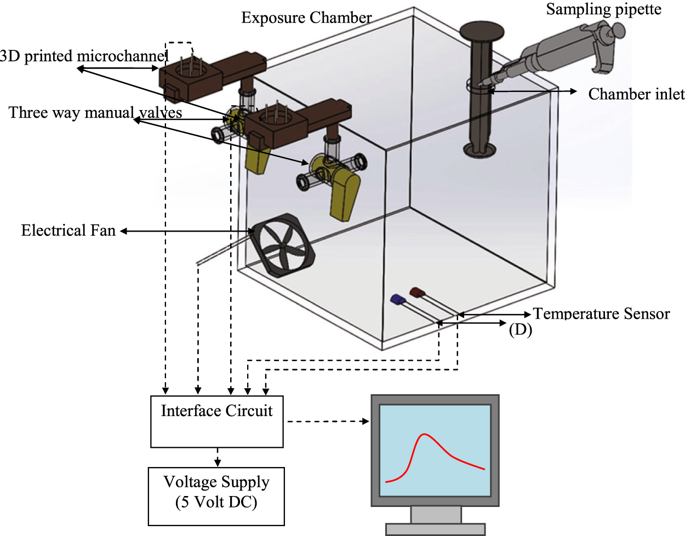 Schematic of the experimental setup. Two 3D-printed detectors are connected to the exposure chamber using three-way manual valves. Source: University of British Columbia Okanagan
A microfluidic gas detector engineered at the University of British Columbia Okanagan to detect traces of gases quickly and efficiently might be deployed for environmental monitoring, food and beverage quality assessments, and biological and chemical analytical systems.
The minute gas detectors housed in the artificial nose consist of 3D-printed parts assembled to create the microchannel and a metal oxide semiconductor. The detectors can connect to a sampling chamber or be used in a laboratory setting.
A notable feature of using two different channels is that each has a different coating representing different levels of hydrophobicity. Comparing two separate gas detectors with channels outfitted with special coatings that act differently when exposed to different gases affords the user the ability to adjust the coating based on the desired target gas.
Tests were conducted with target gases from volatile organic compound classes, including ketones and alkanes. The coatings direct the gases to the appropriate sensor for immediate analysis. Non-polar channel coating surfaces are recommended for better classification of non-polar gases. Changing the coating surface has less effect in the case of polar gases.
The research is published in Scientific Reports.