Industrial Electronics
Welcome to the Dollhouse
10 December 2018
Laser cutters make it possible to produce finely detailed work on a variety of materials, finding use in settings ranging from industrial factory floors to the tool collections of artisans and craftspeople. One discipline where the laser can bridge the gap between hand-crafted precision and mass-production style efficiency is the creation of dollhouse miniatures — an art which has been increasing in popularity in recent years, as illustrated by articles like this one from The Atlantic.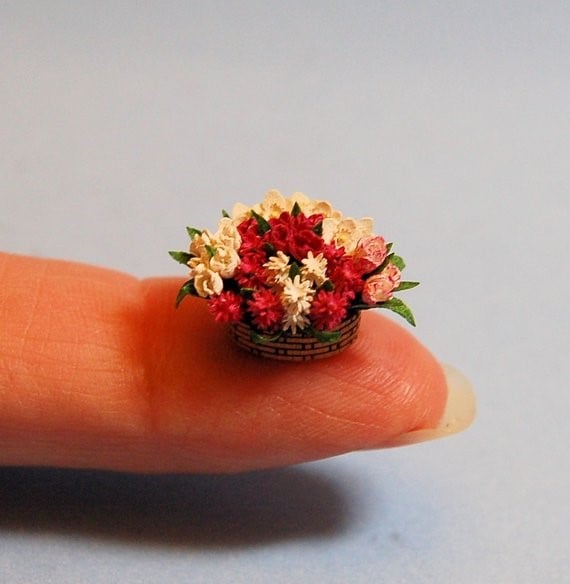 Figure 1: Quarter-inch scale bulb garden with laser-cut flowers and leaves. The basket is also laser-cut from cherry wood. Source: sdk miniatures LLCMiniaturists are particularly savvy at repurposing ordinary objects into the building blocks of their creations. A round toothpick, for example, can be turned into a broom handle; a toothpaste cap can be a lampshade. Uncooked alphabet soup letters can be used to spell out a message. Some miniaturists use polymer clay to sculpt uniquely shaped food items. For larger and more intricate items, commercial kits are often used; these include all the parts needed to build, say, a miniature Victorian-style couch or a grandfather clock. It has become increasingly common to see these kits produced by laser cutters.
Lasers are the tool of choice for sdk miniatures LLC, a successful small business based near Pittsburgh that offers both kits and pre-assembled items. Susan Karatjas, who runs the business with her daughter Pamela Ridgley, uses a laser cutter to streamline her design and production process. Her creativity is fueled by sketching real-life objects that she finds interesting, which become vector files that can be reproduced in a variety of materials with the laser.
This has opened a world of possibilities for sdk miniatures — from the types of materials that can be cut to the types of cuts that can be performed to the sizes that can be worked in.
Miniaturists working with traditional tools such as an X-Acto knife often turn to basswood, a soft and pliable material that features a small grain that looks realistic in miniature scale. But basswood has its limitations in terms of durability. Premium hardwoods such as cherry or walnut, while highly desirable for woodworking and fine furniture-making, can be a considerably more challenging material for making miniatures. As an ideal tool for cutting and engraving nearly all types of wood, the laser transcends those limitations. This has allowed Karatjas to incorporate a variety of woods into her work.
In addition to its detailed furniture offerings, sdk miniatures is known for its intricate flower and plant kits. For these, Karatjas works with various types of paper. Before she introduced a laser cutter into the business around 12 years ago, she relied upon her collection of paper punches to make the building blocks of each kit. "I would spend time searching for all different kinds of shapes," she said. The laser not only saved her time, but also freed her from the repetitive manual strain of the paper punches. "The punches went out the window," she laughed.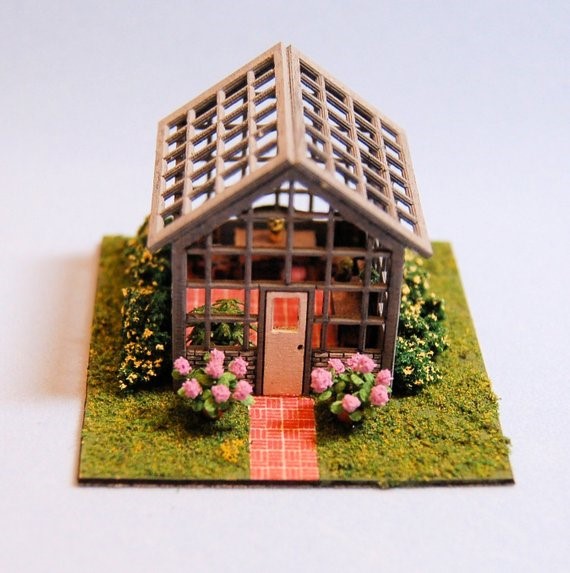 Figure 2: This 1:144 scale greenhouse, with a height of 1.25 inches, was laser-cut from 1/32 in thick plywood. Furniture inside the greenhouse was cut from plywood just 1/64 in thick. Source: sdk miniatures LLC Even before that happened, Karatjas realized the laser would allow her to incorporate new types of cuts into her furniture designs. "The first thing I said was, 'I'm tired of doing square tables,'" she said. "I can do round ones now. That was the first thing I came up with: 'Oh, I can have curves in my stuff!'"
The laser has also allowed Karatjas to work in smaller scales: The miniature world is replete with different dimensions. These include the common 1:12 scale, also known as "one-inch scale," in which items having a real-world measurement in numbers of feet are created for the miniature world within the same number of inches. Far more challenging to work with, but growing in popularity, are smaller scales such as 1:144; this reduces the 1:12 dimension by a factor of 12. Sometimes known as "doll's dollhouse" scale, it represents the size that a 1:12 scale dollhouse would have inside of a 1:12 scale dollhouse. The laser opens the possibility of creating objects at tiny scales with a level of detail that previously was all but impossible.
Karatjas now uses the laser for nearly everything she makes. It has been instrumental for expanding both the variety and detail of her offerings, as well as the quantity she's able to produce. For smaller-scale kits, all the pieces can be scored into a single piece of wood. Once the design of the kit is in place, the laser can reproduce it perfectly an unlimited number of times, with minimal effort.
For miniaturists who are aspiring entrepreneurs, the value of a laser cutter is unparalleled — especially in the profitable area of kit design and production. Perhaps most importantly for Karatjas, the laser has afforded greater freedom simply to create. "You can cut exactly what you want," she explained. "If you try a version and it doesn't work, you think about what needs to be changed and you do it again."
Find Free Electronics Datasheets