Heilind Electronics, a global distributor of electronic components and authorized distributor for Harting, is now stocking Harting's modular industry computing architecture (MICA) industrial internet of things (IIoT) starter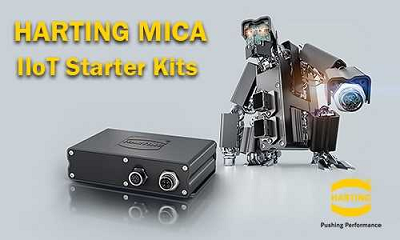 Source: Heilind Electronics kits.
The IIoT is one of the primary trends affecting industrial businesses today and in the future. Harting's MICA starter kits assist manufacturers looking to implement IIoT identification, predictive maintenance management and permanent status monitoring into their operations — just a few of the many application scenarios where MICA kits show potential.
The kits currently stocked by Heilind include the MICA CISS IIoT starter kit for basic condition-monitoring applications; the MICA RF-R300 RFID starter kit for basic RFID asset tracking applications; and the MICA Ethernet starter kit for connecting peripheral devices through Ethernet using communications protocols.
Visit Heilind's website for more information about Harting's MICA IIoT starter kits.