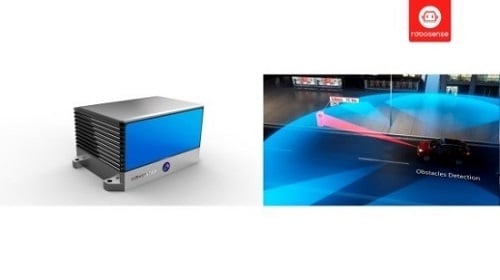 The RS-IPLS Intelligent Perception Lidar System. Source: Robosense
Robosense has introduced a new hardware/software algorithm lidar system designed for the mass production of safer autonomous cars.
The RS-IPLS Intelligent Perception Lidar System features real-time data pre-processing and a
"gaze" function similar to human eyes. Robosense said the microelectromechanical system (MEMS) solid-state lidar outputs highest resolution color point cloud data by merging 2D imagery hardware with RS-lidar-algorithm deep learning sensing algorithms.
The algorithms achieve object level information for region of interest (ROI) detection areas in real-time. The Gaze technology perceives a target in its field of view and it initiates a "gaze" process that locks the target for ROI processing, achieving the clearest, most stable environmental data. The lidar low level architecture maintains vigilance, constantly capturing areas of interest, allowing the "gaze" to transfer high-quality feedback, Robosense said.
Data pre-processing is performed by the artificial intelligence algorithm, with the ROI repeatedly detected for farther distance and more accurate perception results, with reduced stress to the central data processing unit, the company said.